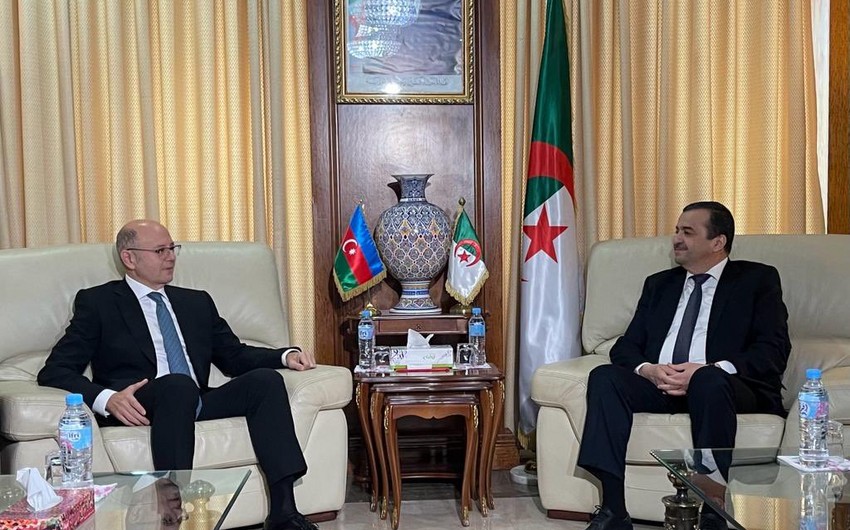 Azerbaijan is successfully cooperating with Algeria in the OPEC plus format to balance the global oil market, Azerbaijani Energy Minister Parviz Shahbazov said during a meeting with the Algerian Minister of Energy and Mining Mohamed Arkab during his visit to Algeria, Report informs, citing the Energy Ministry of Azerbaijan.
The parties exchanged views on activities and planned projects on oil and gas, as well as renewable energy and energy transition, discussed cooperation in the fields of oil and gas, petrochemicals and renewable energy, as well as with Sonatrach and Sonelgaz companies.
The importance of President Ilham Aliyev's participation as a guest of honor at the 31st Summit of the League of Arab States held recently in Algeria was emphasized in terms of the development of bilateral relations. It was noted that the similarities between the two countries and the historical relations in the oil field are a platform for the development of cooperation in the energy field at a new stage.
Parviz Shahbazov said that Azerbaijan and Algeria, which have rich hydrocarbon reserves and are important suppliers of natural gas, have a broad potential in the energy field to strengthen friendly and cooperative relations.
High-level relations between the two countries and rich experience in the field of hydrocarbons make it urgent to expand the scope of energy cooperation and strengthen mutual activities.
Then, in order to develop bilateral cooperation in the field of oil and gas, the "Memorandum of Understanding on cooperation in the field of oil and gas between the Government of the Republic of Azerbaijan and the Government of the People's Democratic Republic of Algeria" was signed.
This document envisages cooperation on onshore and offshore hydrocarbon exploration and production, development of hydrocarbon projects, petrochemical industry, marketing, transportation and distribution of energy products.
Also, this document covers activities in the areas of supply of Azeri Light and other types of crude oil, implementation of green energy production projects and conducting research on hydrogen transportation, implementation of regulatory, joint projects in the oil and gas sector, and exchange of experience. It is planned to establish a Joint Working Group to implement issues arising from the Memorandum.