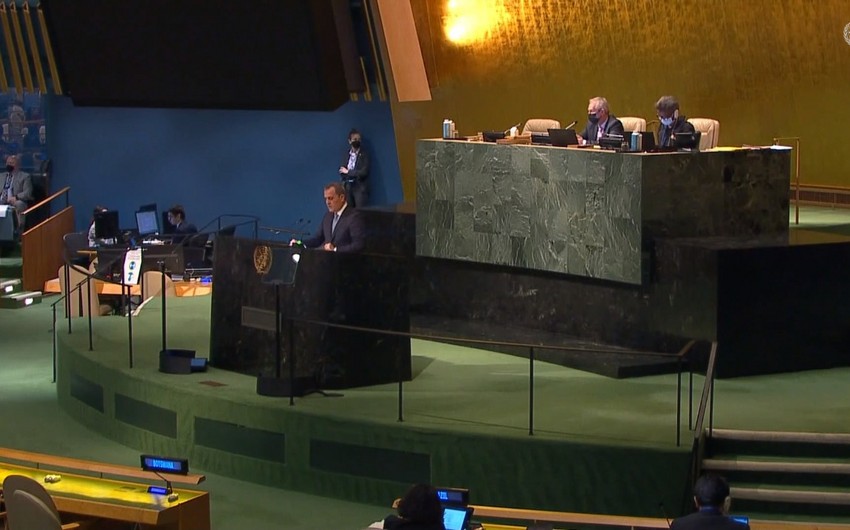 "We hope that Armenia will finally reciprocate constructively and engage genuinely into the negotiations," Azerbaijani Foreign Minister Jeyhun Bayramov said at the General Debate of the 77th session of the UN General Assembly in New York, Report informs.
The minister noted that contrary to reckless actions of Armenia, Azerbaijan exercised utmost restraint, took several steps, including through contacts with relevant international partners, and demonstrated good faith and genuine will to restore the ceasefire.
"In the aftermath of the escalation (the provocation of the Armed Forces of Armenia on September 12-14, 2022), Azerbaijan is engaged in addressing the humanitarian consequences and in this context declared its willingness to return to Armenia remains of deceased military personnel on a unilateral basis, and informed the ICRC accordingly."
Jeyhun Bayramov stressed that Azerbaijan is not and cannot be interested in the tension:
"As a matter of fact, latest hostilities erupted in close proximity of areas where impressive large-scale post-conflict investment, rehabilitation and reconstruction projects are underway.
Furthermore, latest escalation of tension fits very well into the pattern we had observed over last 30 years from Armenia. Each time at the decisive stage to achieve a breakthrough Armenia resorted to similar serious provocation as a mean of escaping from responsibility of taking necessary decisions.
We would have wished that current leadership of Armenia is not following the path of its predecessors by deliberately closing for yet another time the window of opportunity for peace and security in the region."
The minister stated that Azerbaijan is resolute in further repelling any threat to its sovereignty and territorial integrity, as well as safety of its citizens, and urges Armenia to refrain from further escalating the situation.
"Instead, Armenia has to constructively engage in the ongoing normalization process in order to establish predictable stable situation in the region through establishment of good-neighborly relations.
In this context, following the agreement reached at the fourth meeting held on August 31, 2022 in Brussels of the leaders of Azerbaijan and Armenia with the President of the EU Council, Azerbaijan reiterated to Armenia its readiness to start practical work on the peace treaty without further delay. Immediately after the meeting, we proposed concrete date and venue to Armenia for such talks," Bayramov said.
Azərbaycan24 sosial şəbəkələrdə