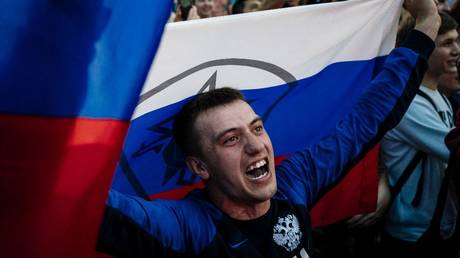 The Iraqi Football Association has called on international teams to "show courage" and lift their boycott Russian fans watch their team during the 2018 World Cup Group A football match between Russia and Egypt in Nizhny Novgorod, Russia, June 19, 2018 © AFP / Dimitar Dilkoff
The Iraqi Football Association (IFA) has called for the participation of Russian teams in international competitions, calling sporting boycotts against Russia "unfair." Iraq and Russia are set to face off at the end of the week in St. Petersburg.
"Iraq wants to break the barrier against the Russian team, because Russia occupies an important position in the world," IFA spokesman Yusuf Faal told Russia's RIA news agency on Sunday. "Playing with the Russian team in the country itself has not only a sporting component, it is a message that football unites, and is not a field for boycotts or isolating Russia."
Russian football clubs, including the national team, were barred from UEFA and FIFA competitions indefinitely last year. The bans saw Russia excluded from qualifying for next year's UEFA European Championships, and barred from last year's World Cup in Qatar.
However, Russia was invited last week to take part in a regional tournament in Kyrgyzstan and Uzbekistan in June organized by the Central Asian Football Association. The Russian team will also play Iran this Wednesday in Tehran, before flying home for Sunday's clash with Iraq.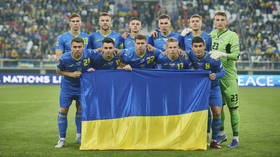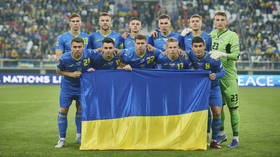 Read more
Ukraine left out of 'unprecedented' World Cup announcement
The Russian national team has played three friendly matches since the FIFA/UEFA suspension. Valeri Karpin's men secured a 2-1 victory against Kyrgyzstan in September, but were held to 0-0 draws against both Tajikistan and Uzbekistan in November.
"This is a call to other teams, be they Arab, Asian or even European, to show courage, move away from politics and start playing matches against the Russian team in their countries or in Russia itself," Faal told RIA. "The ban on the participation of the Russian team or its clubs in international competitions is unfair."
The International Olympic Committee was the first international sporting organization to ban Russian and Belarusian athletes after Moscow launched its military operation in Ukraine last February. The organization is currently seeking a "pathway" for these blacklisted athletes to participate in next year's Olympic Games in Paris, despite furious protests from Ukraine and some of its Western backers. (RT)
Azərbaycan24 sosial şəbəkələrdə