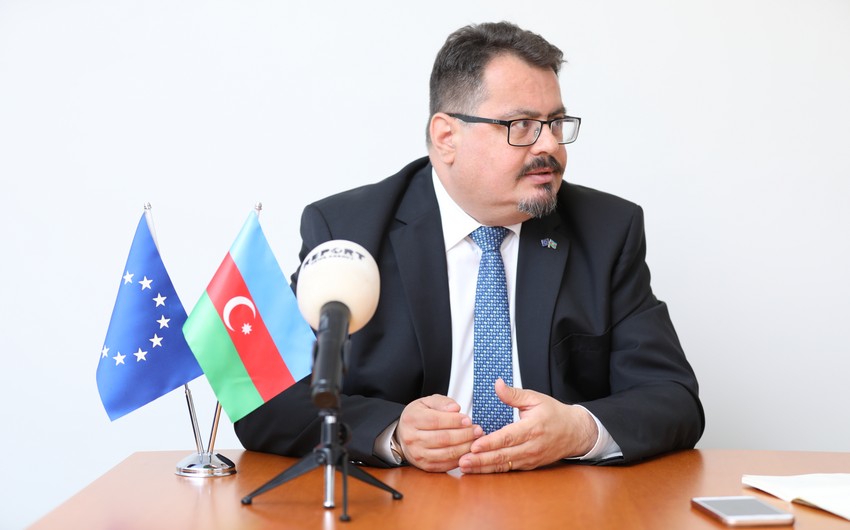 The EU is the number one trading partner for Azerbaijan, the main export destination and the largest source of investment, Head of the European Union (EU) Delegation to Azerbaijan, Ambassador Peter Michalko said in an interview with Report.
"Our economic commercial cooperation is growing and even during the pandemic period, we saw growth in 2021, we had record levels of commercial exchange beyond 15,4 billion euros. EU is the number one commercial partner of Azerbaijan, it is the first export destination for Azerbaijan and it is also the largest source of investments for the economic potential of Azerbaijan," he noted.
"We also see that this positive tendency continues, we expect that this year could be even better in its results.
Obviously, we are also very proud that there are many European companies presented in the country and coming with more investments or the new investors are appearing."
"They are interested in activities in many sectors, and reconstruction in regained territories is one of them. Several companies from a number of member states are already present there.
Their presence or activities are mainly related to the project that is contacted by the government for currently ongoing major projects of reconstruction. But of course, there is a growing interest, and therefore we also welcome the information that we can receive what the plans and priorities of further projects are," he added.
"As you know, the EU together with the UN and the World Bank is involved in the activity of expert assessment for recovery needs. We recently had an expert group here; it worked to prepare such an assessment mission. We are in close communication with the government on this, according to the priority and needs of Azerbaijan.
Also, the announcement of the 2-billion euro package of economy and investment plan, as you can record, was made in February during the visit of European Commissioner Oliver Varhelyi. This economic and investment plan has 5 flagship initiatives that are much in line with the priorities of the government, including priorities for reconstruction projects when we speak about green transition when we speak about Port of Baku, but not only this."