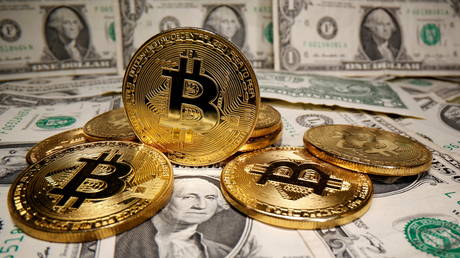 Miami's mayor is moving forward with a plan to pay city workers in bitcoin, calling the switch from fiat currency a "major priority." However, neither city workers nor the Miamians who pay their salaries have yet been given a say.
City employees would be able to receive all or part of their paychecks in the much-hyped cryptocurrency, Mayor Francis Suarez told Bloomberg on Tuesday, adding that if the county authorities permit it, residents could even pay their taxes in bitcoin. Miami residents have not yet been given any choice in the city's hot pursuit of the cryptocurrency, even though Suarez wants the entire state to hold bitcoin on its balance sheet – something that is currently illegal and could lead to massive financial losses for the state should the labile currency tank.
Also on rt.com Experts warn of 'extreme greed' territory for bitcoin as crypto pushes toward $60,000
Suarez announced the city would "differentiate ourselves as a crypto capital of the United States or of the world" in the interview, announcing the city was putting out a request for proposals from any financial-technology partner capable of designing and developing such a system.
"We're going for a request for proposal in October to allow our employees to get paid in bitcoin, to allow our residents to pay for fees in bitcoin and even taxes potentially in bitcoin if the county allows it," Suarez told the outlet.
Currently, Florida law does not permit local governments to hold volatile assets like bitcoin on their balance sheets, and Suarez recently declined to respond to a question regarding whether he is lobbying the state government to change that rule. It's not clear if there is a ballot initiative to approve the bitcoin switch, and while city employees presumably have the option to continue receiving their salaries as they have in the past, such heavily-promoted new technologies are often accompanied by heavy pressure campaigns. Faced with either the 'carrot' of a bonus or the 'stick' of a penalty, many workers will likely throw up their hands and go with bitcoin.
While some employees are no doubt familiar with the ins and outs of cryptocurrency, others might easily be convinced to jump headfirst into an asset they don't understand. A recent YouGov poll found that while 38% of Americans believe cryptocurrencies will be widely accepted as a means of payment in a decade, more than two-thirds admitted they "don't really understand cryptocurrency." These employees could easily be cajoled into adopting a payment system they know nothing about and ultimately end up losing their savings in the next crash.
Also on rt.com Miami mayor calls for US to bomb Cuba… because airstrikes have worked so well in the past
It's not the first time Suarez has urged massively consequential action with no input from his constituents. In July, the mayor suggested a US military intervention in Cuba following a weekend of highly publicized protests, something both the political Left and Right agreed was a bad idea.
The mayor has long sought to make Miami a bitcoin-friendly city, touting its nuclear power as a clean alternative energy source for the massive amount of electricity needed to mine the currency. The city also attracted crypto exchange FTX, which reportedly agreed to pay $135 million over 19 years for naming rights to a basketball arena. (RT)