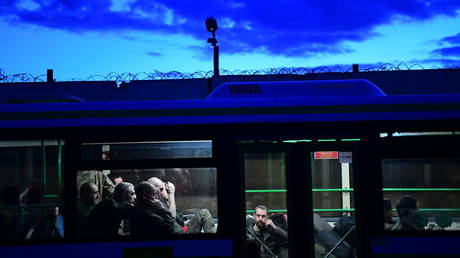 The "hit squad" will target infrastructure and Moscow-friendly leaders, according to Russian news agencies FILE PHOTO: Ukrainian fighters from besieged Azovstal steel plant who have surrendered wait in a bus outside a pre-trial detention centre, Donetsk People's Republic © Sputnik / Alexey Kudenko
The UK foreign intelligence service MI6 has allegedly prepared a group of saboteurs to disrupt Russia's growing economic cooperation with African states, a military-diplomatic source told the RIA and TASS news agencies on Wednesday.
The British spy agency created a "sabotage hit squad" consisting of some 100 Ukrainian "nationalist and neo-Nazi militants," the source claimed, citing "information confirmed by several sources."
London reportedly asked Kiev back in July to "provide maximum and prompt assistance to representatives of the British intelligence MI6 and SAS special unit" in order to select fighters with "significant combat experience on the 'eastern front'."
The source, cited by both RIA and TASS, claimed that the British-Ukrainian unit will be tasked with "sabotage of infrastructure in African countries, as well as the elimination of African leaders oriented towards cooperation with Russia."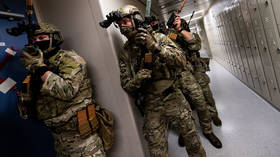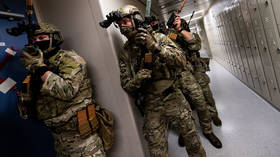 The militant group, alleged to be headed by Kiev's Main Directorate of Intelligence officer Lt. Col. Vitaliy Prashchuk, is expected to be deployed to the Sudanese city of Omdurman from the Ukrainian port of Izmail by a "chartered civilian ship" sometime during the second half of August, the source added.
London has been deeply involved in the Ukraine conflict since its escalation in February 2022, supplying domestically produced and foreign military hardware to Ukraine, training Ukrainian troops in Britain and elsewhere in Europe, and sharing intelligence.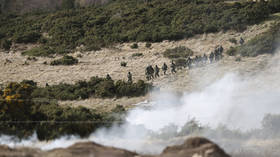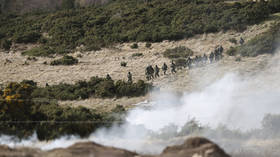 The Wall Street Journal reported in May that British special forces "are operating very close to the front lines" and that their "guiding influence on Ukrainian special-forces activity is evident in the sabotage operations Ukraine has conducted against Russian railway, airfield, fuel and other logistical nodes."
"We can't rule out that the British participated in the planning, organization and support of terrorist attacks carried out by the Kiev regime on the territory of Russia," the Russian Foreign Ministry said at the time, adding that Moscow reserves the right to respond to such conduct by the UK at a time and place of its choosing. (RT)
Azərbaycan24 sosial şəbəkələrdə