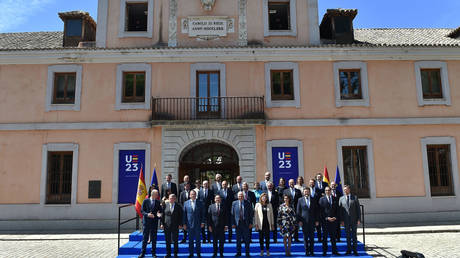 Hungary is holding up "European Peace Facility" funds earmarked for Kiev EU foreign ministers pose for a photo afer a meeting in Toledo, Spain, August 31, 2023. © Denis Doyle/Getty Images
The EU has been unable to release €500 million in 'European Peace Facility' funding for Ukraine, due to opposition from one of the members, the bloc's foreign policy commissioner Josep Borrell told reporters on Thursday. The country was later identified as Hungary.
"I have to regret that the 8th tranche of the European Peace Facility (EPF) is still blocked," Borrell said after an EU ministerial meeting in Toledo, Spain. "I hope we will be able to unblock [it] in the next [few] weeks. But this is a problem that is still pending to be solved."
Budapest has been blocking the EPF funds for months, objecting that Kiev has designated a major Hungarian bank as a 'war sponsor'. The bloc has used the EPF, established in March 2021, as a way to fund weapons and ammunition deliveries to Ukraine outside of normal budgetary procedures.
Following the meeting of EU defense ministers on Wednesday, Borrell spoke of the need to train more Ukrainian troops faster, noting that almost 40,000 conscripts will have undergone training at various EU sites this year, including at the Spanish military academy in Toledo itself.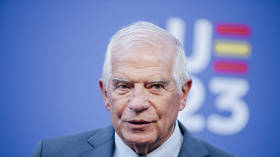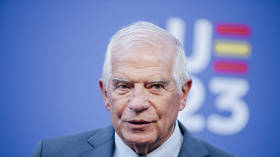 Read more
Borrell calls for intensified EU training of Ukrainian conscripts
Thursday's meeting involved foreign ministers, and included a briefing by Ukrainian FM Dmitry Kuleba. At the press conference, Borrell spoke of the need for the EU to support Ukraine "today, tomorrow and always" in a manner that is "predictable and sustainable," but mainly financial.
The Spanish politician again mentioned that he had proposed to the European Commission to create a new Ukraine Assistance Fund, spanning the period from 2024 to 2027, and expressed hope the body would "reach an agreement by the end of the year." Borrell envisioned the fund to amount to about €5 billion annually, for a total commitment of €20 billion over the next four years.
While Borrell spoke as if Brussels could afford to leverage its entire economic, political, and military might in the service of Ukraine, Hungary has been skeptical of the bloc's policies.
Speaking at a forum in Slovenia earlier this week, Hungarian FM Peter Szijjarto described the EU as being in a "very bad shape" due to the Ukraine conflict, "worse than at any time in the past, in terms of security, economy and energy supply." The bloc's commitment to arming Ukraine has made it unable to broker a peace, while the EU's energy, security, and economic prosperity have been dealt serious blows by the embargo against Russia, according to Szijjarto. (RT)
Azərbaycan24 sosial şəbəkələrdə