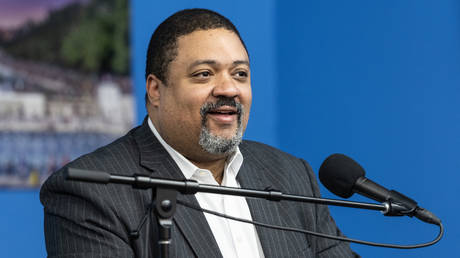 District Attorney Alvin Bragg accused Republican congressman Jim Jordan of waging an intimidation campaign © Getty Images / Lev Radin
Manhattan District Attorney Alvin Bragg filed a lawsuit on Tuesday against House Judiciary Committee Chairman Jim Jordan, seeking to quash what it describes as a "transparent campaign to intimidate and attack" Bragg and derail his prosecution of former president Donald Trump.
The suit seeks to block enforcement of Jordan's subpoena for testimony from Mark Pomerantz, who previously worked as a senior prosecutor in Bragg's office, and to stem the flow of demands for "confidential documents and testimony from the district attorney himself as well as his current and former employees and officials" emanating from the Republican's office.
Describing Jordan's requests as a "constitutionally destructive fishing expedition" that threatens "federalism and the sovereign interests of the State of New York," Bragg complains that the Republican's demands have "no legitimate legislative purpose" as Congress lacks jurisdiction over state and local cases.
Even if the "unprecedentedly brazen and unconstitutional attack" did have a legitimate legislative purpose, the suit argues, the material Jordan is seeking is protected by attorney-client, work product and other privileges.
Responding to Bragg's lawsuit, Jordan tweeted, "First, they indict a president for no crime. Then, they sue to block congressional oversight when we ask questions about the federal funds they used to do it." Bragg has denied Jordan's claim that $5,000 in federal funds used to investigate Trump gives Congress legitimate grounds to request information – despite his office previously stating it would comply with requests for information about the use of those funds.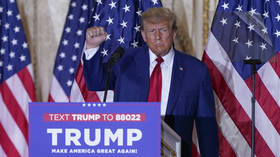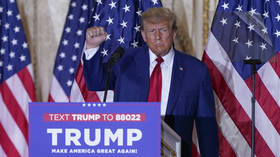 Read more
Donald Trump's prosecution has propelled him back into the electoral game
Trump was arraigned last week on 34 felony charges, becoming the first US president ever to face criminal prosecution. The case centers on his alleged payment of $130,000 to porn star Stormy Daniels to remain silent about their purported affair ahead of the 2016 election. While falsifying business records is typically charged as a misdemeanor, Bragg had the charges bumped up to felonies, meaning that if Trump is found guilty, he could be prohibited from running in the 2024 election.
The former president, who has seen his popularity soar since the indictment, has denounced the charges as politically-motivated persecution, denying having an affair with Daniels or knowingly paying her off and insisting "this fake case was brought only to interfere with the upcoming 2024 election."
(RT)
Azərbaycan24 sosial şəbəkələrdə