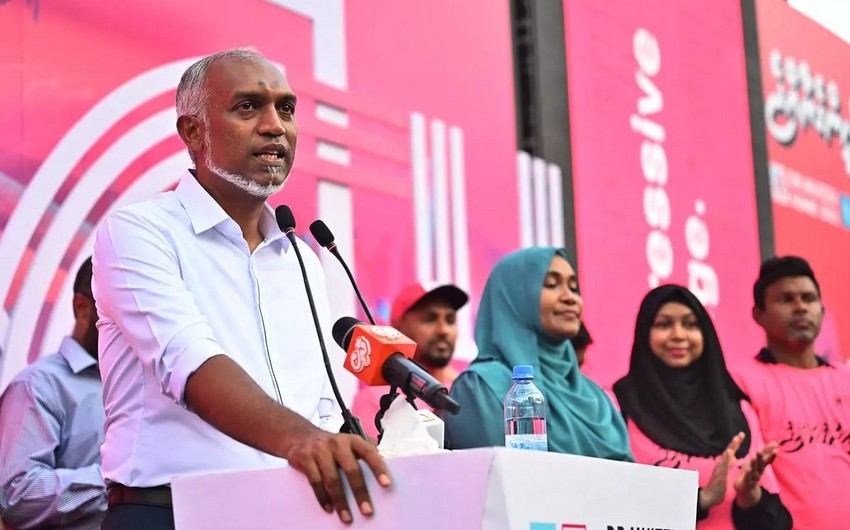 Opposition candidate Mohamed Muiz won the Maldives presidential runoff on Saturday, securing more than 53% of the vote, local media reported, Report informs via the Associated Press.
The election has turned into a virtual referendum on which regional power — India or China — will have the biggest influence in the Indian Ocean archipelago nation.
Mihaaru News reported that incumbent President Ibrahim Mohamed Solih had received 46% of the vote and that Muiz had won by more than 18,000 votes. Official results were expected Sunday.
"With today's result we have got the opportunity to build the country's future. The strength to ensure the freedom of Maldives," Muiz said in a statement after his victory. "It's time we put our differences aside and come together. We need to be a peaceful society."
Muiz also requested that Solih transfer former president Abdulla Yameen to house arrest from prison.
It was a surprise win for Muiz, who entered the fray as an underdog. He was named only as a fallback candidate closer to the nomination deadline after the Supreme Court prevented Yameen from running because he his serving a prison sentence for money laundering and corruption. Yameen's supporters say he's been jailed for political reasons.
Neither Muiz nor Solih got more than 50% in the first round of voting earlier in September.
Solih, who was elected president in 2018, was battling allegations by Muiz that he had allowed India an unchecked presence in the country. Muiz's party, the People's National Congress, is viewed as heavily pro-China.
Solih has insisted that the Indian military's presence in the Maldives was only to build a dockyard under an agreement between the two governments and that his country's sovereignty won't be violated.
Muiz promised that if he won the presidency, he would remove Indian troops from the Maldives and balance the country's trade relations, which he said were heavily in India's favor.
The Maldives is made up of 1,200 coral islands in the Indian Ocean located by the main shipping route between the East and the West.
Azərbaycan24 sosial şəbəkələrdə