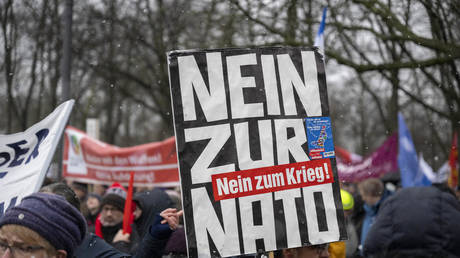 More than half of the population is also in favor of peace talks between Kiev and Moscow, a new survey has shown FILE PHOTO: A placard reading: " No to NATO, No to War" is seen at a rally in Berlin, Germany, on February 25, 2023. © Global Look Press / dpa / Christophe Gateau
More than half of Germans do not support the idea of Ukraine joining NATO, a YouGov poll commissioned by Germany's dpa news agency has shown. As many as 54% of the survey respondents opposed such a prospect, the news agency reported on Friday.
Only 27% of those polled said they would agree to offer Kiev the prospect of membership in the US-led military bloc.
In April, Ukrainian President Vladimir Zelensky claimed that most Europeans would not understand if Kiev does not get a "well-deserved invitation" to join NATO. The Ukrainian leader is now expected to take part in a NATO summit in Lithuania in July, according to dpa.
Germans, meanwhile, mostly want Kiev to start negotiations with Moscow instead, the YouGov poll showed. According to the survey, 55% of respondents called for negotiations between Russian and Ukraine on ending the ongoing conflict. Only 28% opposed such an initiative.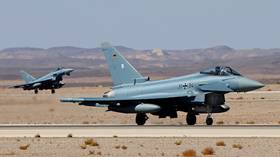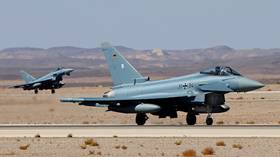 Read more
Poll reveals German attitudes to warplanes for Ukraine
The poll comes as Berlin has just announced another massive weapons package for Ukraine. Worth more than €2.7 billion ($2.95 billion), the new arms delivery is expected to include four German-made ground-based IRIS-T air-defense systems – something the German Armed Forces themselves do not yet possess – as well as 30 Leopard 1 battle tanks, 20 infantry fighting vehicles, 100 armored personnel carriers, 18 wheeled self-propelled artillery systems and 200 reconnaissance drones.
"With this valuable contribution of urgently needed military equipment, we are showing once again that Germany is serious about its support," Defense Minister Boris Pistorius said on Saturday. He did not elaborate on when the arms are expected to be delivered to Ukraine, though.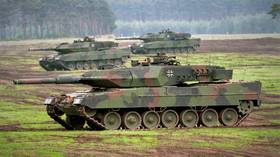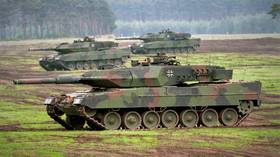 Read more
Majority of Germans oppose sending tanks to Ukraine – poll
The deputy head of the Conservative Union (CDU/CSU) parliamentary faction, Johann Wadephul, has called on Berlin to allow Ukrainians to use the German-made weapons against targets inside Russia. "Neither under international law nor politically is there any reason why Ukraine shouldn't be allowed to attack targets in Russia," he told Tagesspiegel daily.
Meanwhile, the German public has been wary of the massive military support provided to Kiev throughout the conflict. In February, almost two thirds of Germans polled opposed providing Kiev with fighter jets, a survey showed. In December 2022, a YouGov poll indicated that 45% were against sending German Leopard 2 battle tanks to Ukraine.
A number of German celebrities and public figures also sent two open letters addressed to Chancellor Olaf Scholz in which they asked Berlin to stop sending arms to Ukraine and to "do everything" instead to reach a ceasefire "as soon as possible" and find a "compromise that both sides can accept."
Russia previously repeatedly warned that "pumping" Ukraine with weapons would only prolong the human suffering and create risks of further escalation of the hostilities up to a direct confrontation between Moscow and NATO. It also said it was ready for a peaceful resolution to the conflict, as long as its goals are achieved and its interests are taken into account. (RT)
Azərbaycan24 sosial şəbəkələrdə