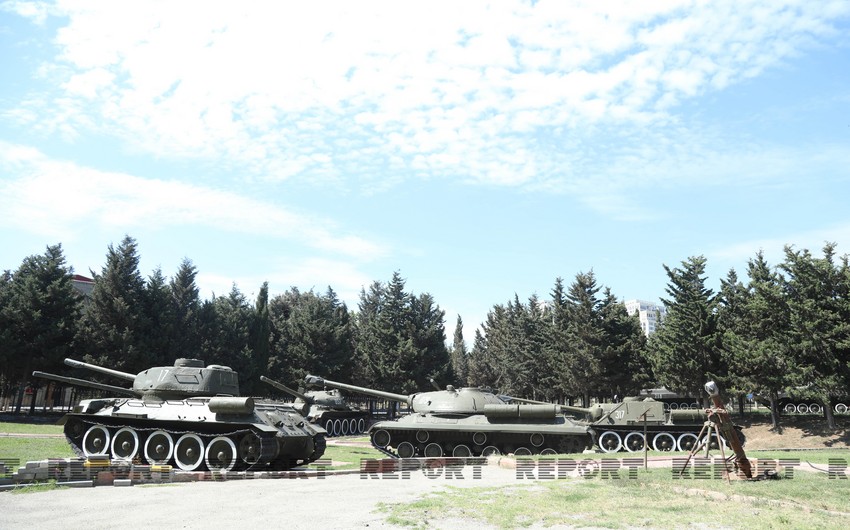 It is a matter of pride to celebrate June 26 – Armed Forces Day as the victorious military of the winning country, Major of the Azerbaijani Army Orkhan Bakirov, who fought in the direction of Jabrayil and Gubadli district during the 44-day war, told Report.
Bakirov noted that he was born into a military family: "War, military uniforms, and weapons are not strange to me. I grew up in a military family. My father, Ismayil Bakirov, worked as an officer. So my family sent me off to war in a good mood. We left for Karabakh on September 28, 2020. I must emphasize that I did not see any fear or hesitation in the faces of Azerbaijani boys who went to war. Everyone left with a smile on their faces and great joy. One day after I left for the war, September 29, was my birthday. I was lucky enough to celebrate my birthday in the war zone."
Bakirov said that the successful and far-sighted policy pursued by Supreme Commander-in-Chief Ilham Aliyev, as well as the support of the Azerbaijani people, were among the main factors motivating them: "During the war, we received many letters written by schoolchildren. The hopeful words of high school students and their confidence in the strength of the Azerbaijani Army always encouraged us to move forward. I should also mention that we took those letters after the war and met with these letters' owners. Thankfully, we justified their hopes. We have liberated our lands that had been under enemy occupation for thirty years. We have achieved this victory thanks to the successful policy pursued by President Ilham Aliyev and the strength of the brave Azerbaijani Army. Of course, there were martyrs on this path, I wish them God's mercy, patience to their families, and good health to our veterans. It is very gratifying that we are already celebrating June 26 – Armed Forces Day as the victorious Army, the victorious citizens of the victorious country."
Another participant in the 44-day battle, Anar Ahmadov, an officer of the Defense Ministry's Military Police Department, said he joined the fighting from the direction of Tartar's Sugovushan settlement.
Ahmadov said he was wounded during the war: "On the night of September 27, we were ordered to prevent a provocation committed by the enemy. We attacked in the direction of Sugovushan. On September 30, I was wounded by a hand grenade thrown by Armenians while preventing a counterattack of the enemy. I was evacuated and had surgery. The doctors told me they could not remove the shrapnel from my neck. One day after the surgery, I went back to the war zone. I couldn't stay there since we have been patient for 30 years, and our patience is over. We had to return and liberate our lands from the enemy occupation. Thank God we won. The only wish of me and my comrades-in-arms was not to be left unfinished but to return to the lands we had longed for 30 years. We greeted the victory with tears. It is said that men do not cry. But those who live those moments know. We shed tears of joy and sorrow. There are, of course, losses if there is a war. But the main thing is that today we took revenge on them and liberated our lands from the enemy. Today, each of us openly and proudly tells the whole world, "Karabakh is ours, Karabakh is Azerbaijan!". Not an inch of our land will we give to anyone. We, the sons of Azerbaijan and the next generation after us, are always ready to sacrifice our lives and blood for our lands. Let me mention one point here. My son's name is Said. But when someone asks my son his name, he introduces himself as asgar (soldier): My name is Asgar. Taking all this into account, I say that we and the next generation after us are always ready to sacrifice our lives and blood to ensure the territorial integrity of Azerbaijan. Therefore, long live Azerbaijan, Karabakh is Azerbaijan!"
An official of the communication units of the Ministry of Defense, Jamil Asadov, said he fought in many directions during the war. Asadov noted that his biggest dream before the war was to see Shusha: "During the war, I was in almost every corner of Karabakh. I participated in Karabakh from September 27 to December 2020. After Gubadli, Zangilan, Fuzuli, and Khojavend directions, our last stop was Shusha. We served in the snowy winter days of Shusha, we got acquainted with every situation there. Let me note that the enemy did not idle for 30 years. But despite all the preparations of the Armenians, the brave sons of the Azerbaijani Army liberated our lands and put an end to 30 years of longing. No matter how much we were saddened by the martyrdom of our comrades-in-arms, we rejoiced for every inch of our liberated land, which was an incentive for us to move forward. I want to emphasize the support of the people during the war. The people of Azerbaijan united like an iron fist. Thanks to this unity, we have cleansed the enemy from our ancient and eternal lands.
"I want to talk about a letter I read. We were in the Sighnag village of Khojavend. One of our officers approached me and said a letter had been sent. When I read the letter, I learned that the person who wrote it was a pupil. I assure you, it was impossible not to be moved into tears by the hopeful words written by young children and their trust in us. Look, this was the most significant factor that inspired us to move forward, to proudly step into the bright future.
"As you know, weapons and equipment taken from the enemy during the 44-day war are displayed in the Military Trophy Park. Although I am saddened to think that these weapons and equipment have killed so many of our sons, as a soldier and a citizen, I am proud of the brave sons of Azerbaijan. The Military Trophy Park is a display of force for the enemy and a source of pride for the people of Azerbaijan. Thankfully, we were lucky to see these days. The whole world is already aware of the strength and courage of the Azerbaijani people and the Azerbaijani Army."
Major of the Azerbaijani Army Hamid Mammadov said that he took part in detecting and striking the enemy targets: "Thanks to its military power, Azerbaijan was able to prevent enemy attacks shortly and flexibly. The Azerbaijani Army has made history in the true sense of the word. The whole world witnessed this. Our lands, which were under enemy occupation for 30 years, have been liberated thanks to the far-sighted policy of the Supreme Commander-in-Chief Ilham Aliyev, the strength of the brave Azerbaijani Army, and the unity of the Azerbaijani people, and we have won. Our victory is eternal, and everyone is ready to sacrifice his life and blood for the freedom of our lands."
Azərbaycan24 sosial şəbəkələrdə
Whatsapp xəttimiz -
070 224 40 25