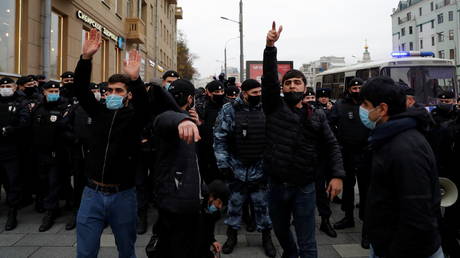 An angry crowd has gathered outside the French embassy in Moscow on Friday to decry French President Emmanuel Macron for defending caricatures of Prophet Mohammed. The rally resulted in several arrests.
Dozens of Muslims joined the action, shouting 'Allahu akbar' and carrying photos of Macron with a footprint on his face. A similar picture was earlier reposted on Instagram by Russian MMA champion, Khabib Nurmagomedov, who called the French president "scum" for his views.
A caricature depicting Macron as the devil, which was first published in an Iranian paper, was also on display. Several photos of the French leader were torched during the protest.
At one point, the demonstrators were filmed engaged in a shoving match with police.
At least 10 people ended up being detained, according to RIA Novosti news agency. (RT)