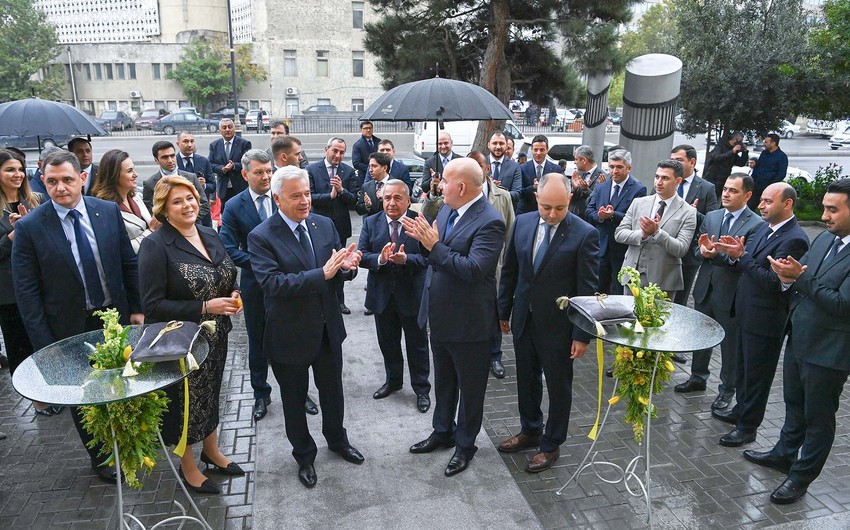 On October 20, the official opening of the new head office of Yelo Bank OJSC took place. The event was attended by all shareholders of the bank, the leadership of the Central Bank of the Republic of Azerbaijan, as well as other officials.
A modern office building located at 81K Zardabi Avenue was renovated in accordance with the new concept of Yelo Bank – "Bright Banking".
The building is distinguished by its functionality – a spacious office space, comfortable work areas, a large assembly hall, an internal library, a gym, and a cafeteria. All of the above makes it possible for employees to combine not only solving work issues but also turns it into an ideal place for communication, socialization, interaction, and holding meetings.
Speaking at the opening, Lukoil President Vagit Alekperov expressed confidence in the correct choice of a new strategy, which has been implemented since the beginning of this year, as evidenced by the bank's high financial indicators.
"Yelo Bank is a modern brand whose mission is both to support small and medium-sized businesses and to provide a full range of financial services to the population of Azerbaijan. Everything that we see today proves once again the professionalism of the team. I would like to once again congratulate the management and staff of Yelo Bank on this significant event and wish everyone success and achievement of their goals."
The Chairman of the Central Bank, Elman Rustamov, congratulated the bank's staff on the opening of the new head office and praised the results achieved by Yelo Bank employees after the rebranding process.
Marina Kulishova, Head of the Supervisory Board of Yelo Bank, noted that the long-awaited opening of the new head office is a logical completion of the Bank's rebranding process.
"The head office is the heart and brain of any organization. We paid special attention to creating the most comfortable conditions for our team, since our main asset is the staff who work here."
Anar Hasanov, chairman of the Board of Yelo Bank, confirmed that the opening of the head office is another step in the implementation of the new strategy:
"The bank has already reached a qualitatively new level of service. According to our new strategy, we will continue to support the real sector of the economy. We will also actively develop retail banking by looking for new innovative solutions to improve the banking experience of our clients. I would like to especially thank the highly-respected Vagit Yusufovich for invaluable support to the Bank in the implementation of our main strategic business goals."