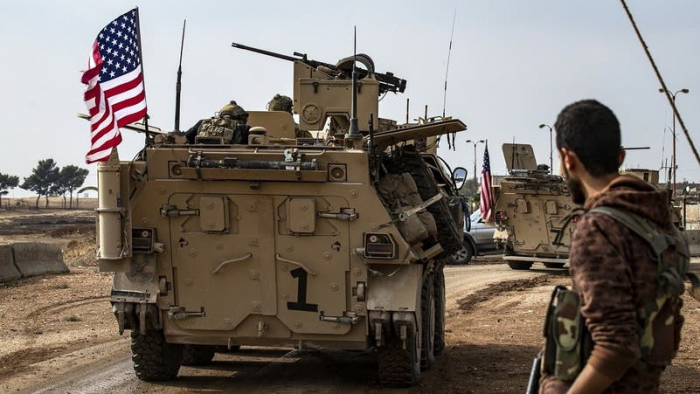 US intelligence officials and leaked classified documents detailed Iran's plan to launch attacks against US troops in Syria while working with Russia to drive Americans away from the region, The Washington Post reported on Thursday.
Iran and its allies are reportedly training forces to use powerful weapons and bombs that could damage armors intended to target US military vehicles specifically in hopes to kill US personnel.
The Washington Post reported those potential attacks could escalate Iran's long-running efforts of using substitute militias to launch rocket and drone strikes on US forces in Syria.
On March 23, an Iranian drone attacked a US military base in Syria killing an American contractor and wounding six US troops. Weapon experts told the Post that the new explosive devices could cause the casualty toll to rise.
The leaked document obtained by the Post is one of several other classified materials leaked on the messaging platform Discord. The documents explain the information are based on a communication interception between Syrian and Lebanese militants allied to Iran.
According to the document, an attempt to use those new explosive devices against US troops in January failed when US allied Kurdish fighters seized three bombs in northeastern Syria.
Another classified material in the leak describes a new effort by Russia, Syria, and Iran to drive out the US from Syria. There are About 900 US troops in Syria at any given time to prevent ISIS from gaining control of the region.
Another classified material in the leak explains how Iran and allied militias are planning to retaliate for Israeli strikes on their forces by attacking US bases in Syria. The documents revealed that high-ranking Iranian, Syrian and Russian officials met in November 2022 and agreed to establish a center where they would coordinate to direct attacks against Americans in eastern and northeastern Syria.
The leaked documents show that Russia is playing more of an active role against US efforts in the Middle East. Russia and Iran are backing Syrian President Bashar al-Assad and his regime's efforts to regain control of the country.
Azərbaycan24 sosial şəbəkələrdə