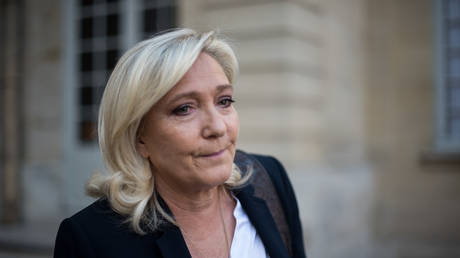 France has been struck by widespread protests amid plans to change its retirement age Rassemblement National leader Marine Le Pen met with Prime Minister Elisabeth Borne at the Hotel de Matignon on September 22, 2022 © Getty Images / Andrea Savorani Neri/NurPhoto via Getty Images
France's far-right opposition party said on Thursday that it is to file a no-confidence motion against the government after President Emmanuel Macron opted to push through controversial pension reform without a parliamentary vote, while also calling for Prime Minister Elisabeth Borne to leave her post.
The reform, which would see France change its retirement age to 64 from 62 and which would require workers to contribute to the system for 43 years before receiving a full pension, has proved to be deeply unpopular, and has triggered weeks of protests and strikes across the country.
The legislation passed France's upper house on Thursday but, faced with potentially not securing enough votes in the lower chamber, the government opted to trigger a constitutional procedure which enables the passing of legislation without a vote.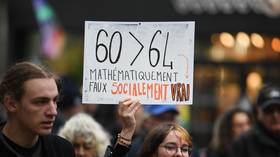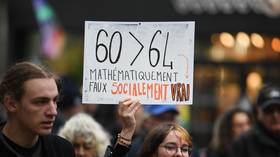 Read more
French senate passes controversial pension reform
The move is a "total failure" for Macron's government, said Marine Le Pen, leader of the National Rally party and former presidential candidate. She added that the actions of Prime Minister Elisabeth Borne, who triggered the constitutional framework, are "a slap in the face of democracy."
"I have always said that if the pension reform is adopted … she can no longer stay in the Matignon," she said, referring to the Prime Minister's residence.
Rival lawmakers in France's lower house jeered Borne when the decision was announced on Thursday, with some MPs attempting to drown her out by singing the French national anthem and prompting a brief delay in the parliamentary session. The move automatically grants the opposition the right to call a confidence vote, and risks further inflaming tensions after weeks of public protest.
Macron had campaigned heavily on introducing pension reform ahead of France going to the polls last April, arguing that changes would make the country's economy more competitive.
However, protests ramped up ahead of the final votes on the planned changes – with refuse collectors going on strike in Paris and some rail services being canceled. It was estimated that around 500,000 protested against the bill across France on Wednesday. (RT)
Azərbaycan24 sosial şəbəkələrdə