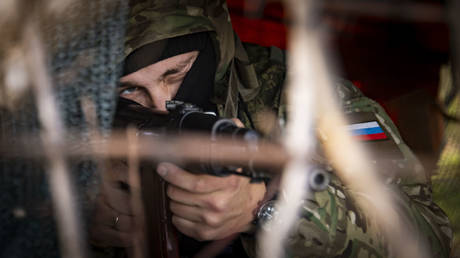 Western politicians should know that by supporting Kiev they're aiding "de-facto murderers," spokesperson Dmitry Peskov says The Kremlin and Red Square in Moscow. © Sputnik / Vladimir Astapkovich
Any persons threatening to kill Russians are enemies who should be and will be punished for doing so, Kremlin press secretary Dmitry Peskov has warned.
On Sunday, Peskov was asked by channel Rossyia 1 to comment on the words of Mikhail Podoliak, a top adviser to Ukrainian President Vladimir Zelensky, who said last week that Kiev's long-awaited counteroffensive would be "the most brutal advance with the maximum killing of Russians on this route."
"That's what our enemies say, and we have to fight them. You can't threaten the Russians with murder. Russians should punish [them] for this, and we will do so," the Kremlin spokesperson pointed out.
He noted that Podoliak was "not a pioneer" in this regard, as the chief of the Ukrainian military's Main Intelligence Directorate (GUR) Kirill Budanov and members of the country's Security Council have also "repeatedly talked about their desire to kill as many Russians as possible."
According to Russia's President Vladimir Putin, the headquarters of GUR in Kiev had been hit by Russian missiles in late May. The Defense Ministry said the successful strike targeted "decision-making centers" in Ukraine "where terrorist attacks on Russian soil were being planned under the guidance of specialists from Western intelligence agencies."
Peskov also said that he wanted the statements about killing Russian citizens made by Podoliak and other Ukrainian officials to be evaluated by Kiev's foreign backers.
"The members of parliament in those countries, they should understand to whom they are sending their aid – to de-facto murderers; people who declare their intention to kill," he explained. (RT)
Azərbaycan24 sosial şəbəkələrdə