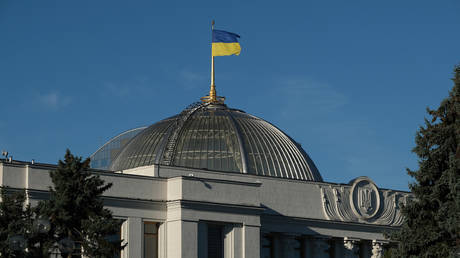 Russia supports international efforts to resolve the conflict, but has its own interests in mind, Putin's spokesman has said FILE PHOTO: The Ukrainian flag flies over the Verchovna Rada, the Ukrainian Parliament in Kiev, Ukraine. © Sean Gallup / Getty Images
Moscow backs any foreign contact with Kiev that seeks a political settlement to the Ukraine conflict and as long as Russia's interests are respected, Kremlin spokesman Dmitry Peskov said on Thursday.
His comments came a day after Chinese President Xi Jinping spoke with his Ukrainian counterpart, Vladimir Zelensky, for the first time since Moscow launched its military operation in the neighboring state more than a year ago.
"We are ready to welcome anything that can bring the conflict in Ukraine closer to an end and, naturally, the accomplishment of all Russia's goals," Peskov told journalists.
The spokesman added that conversations between leaders are the "sovereign [right]" of each country.
Russian President Vladimir Putin cited the need to protect the people of Donbass and Kiev's failure to implement the 2014-2015 Minsk peace accords as reasons for Russia's attack on Ukrainian forces in February 2022. He also said Russia was seeking the "demilitarization" and "denazification" of Ukraine.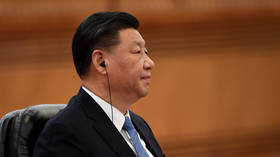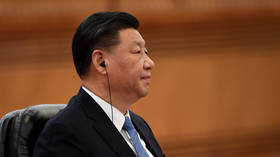 Read more
Xi speaks to Zelensky by phone
Peskov pointed out that the Kremlin is aware of the 12-point roadmap for peace publicly unveiled by China in February. According to the proposal, the conflict must be resolved through negotiations and in accordance with international law, while the "independence and territorial integrity of all countries must be effectively upheld."
Moscow, however, has accused Ukraine of effectively rendering potential negotiations useless by demanding that Russia surrender newly acquired territories.
In 2014, Crimea voted to leave Ukraine and join Russia in the wake of the coup in Kiev that year. The Donetsk and Lugansk People's Republics, as well as Kherson and Zaporozhye Regions, did the same after holding referendums in September. Kiev considers these territories to be illegally occupied by Russia.
Unlike many Western countries, China has refused to condemn Russia's actions in Ukraine. Xi praised strategic partnership with Russia during a trip to Moscow last month. During his call with Zelensky, the Chinese leader reiterated that dialogue was "the only viable way forward." (RT)
Azərbaycan24 sosial şəbəkələrdə