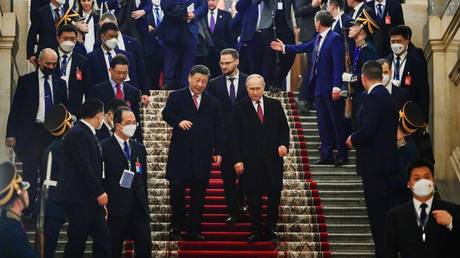 The Financial Times alleged that Beijing was privately claiming credit for Russia's changing rhetoric FILE PHOTO: Chinese President Xi Jinping and Russian President Vladimir Putin in the Kremlin © Sputnik/Pavel Byrkin
The Kremlin has dismissed "fictitious" claims in the Western press that Chinese President Xi Jinping warned his Russian counterpart, Vladimir Putin, not to use nuclear weapons in Ukraine. The claim was reported by The Financial Times, based on anonymous diplomatic sources.
"I cannot confirm that," Putin's Press Secretary Dmitry Peskov told journalists on Wednesday, when asked about the FT article. He suggested that official statements regarding Xi's "important" visit to Moscow in March were "sufficient" to make conclusions about its nature.
According to FT, Chinese officials have "privately taken credit for convincing the Russian president to back down from his veiled threats of using a nuclear weapon against Ukraine." The newspaper alleged that "deterring Putin" from an atomic strike was a key part in Beijing's diplomatic strategy regarding Europe.
The Chinese government has blamed Western policies, including the expansion of NATO in Europe, for the Ukraine conflict, rejecting the Western view that Russia's military operation was "unprovoked". It has also publicly urged Moscow not to use its nuclear capability. The purported warning from Xi to Putin gave supporters of Kiev confidence that "China is backing up its public rhetoric behind closed doors," the FT article said.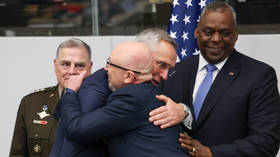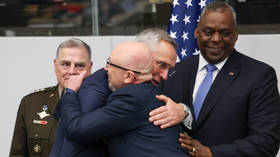 Read more
Russia will prevent Ukraine joining NATO – Medvedev
Moscow has called the Ukraine conflict part of a wider Western proxy war waged against Russia. Putin, as well as other senior Russian officials, have repeatedly cited the Russian nuclear doctrine, which allows the use of such weapons to prevent an existential threat to the Russian state.
Western officials and media outlets have framed those remarks as indicating a possible nuclear attack against Ukrainian forces.
However, Putin has stressed that he is against the idea of a limited nuclear strike for any purpose other than saving the nation from destruction.
"First of all, we have no need for that. Second, the very speculation about this is a factor that lowers the threshold for the use of the weapon," he explained during the St. Petersburg International Economic Forum last month.
The Russian leader added that his recent decision to station some Russian tactical weapons on the territory of ally Belarus was meant as deterrence against "those who think they can inflict a strategic defeat on us," referring to the stated US goal in Ukraine. (RT)
Azərbaycan24 sosial şəbəkələrdə