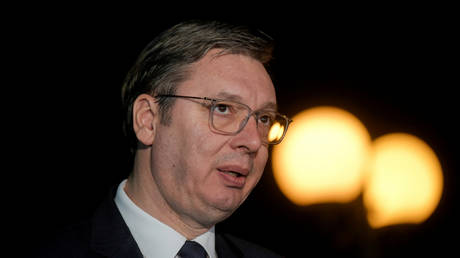 Albin Kurti's approach may result in "big conflicts" in the breakaway province, the Serbian president has said Serbian President Aleksandar Vucic addresses the media after holding meetings as part of Kosovo-Serbia talks, in Ohrid on March 18, 2023. © Armend NIMANI / AFP
Tensions in Serbia's breakaway province of Kosovo may spiral out of control because of the actions of its prime minister, Albin Kurti, warned Serbian President Aleksandar Vucic in an interview released on Sunday amid violent clashes between local police and Serb protesters.
Speaking to the Serbian TV channel Pink, Vucic said that "the most difficult situation in Kosovo and Metohija is yet to follow. Something we have not seen until now, all thanks to the provocative actions and terribly irresponsible behavior of Albin Kurti."
The Serbian leader went on to say that he was "afraid of general insecurity, instability" and of "big conflicts" in the breakaway province.
"I know that this other one [Kurti], who caused everything, doesn't want to retire for a living, because he longs and dreams of being a [Ukrainian President Vladimir] Zelensky," he added.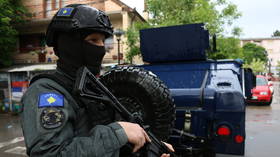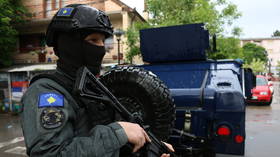 Read more
NATO issues warning to Kosovo
Vucic noted that he had been contacted by several European envoys who voiced concern over the ongoing situation in Kosovo, which has been marked by violent clashes between local police and ethnic Serbs, who make up the majority in the northern part of the region.
Law enforcement officers fired tear gas in one of the municipalities to disperse protesters who had tried to prevent a newly elected ethnic Albanian mayor from entering his office, resulting in several people being injured.
The unrest came after local Serbs mostly boycotted elections in four northern municipalities, which saw a total turnout of just 3.47%, arguing that they would not work with new mayors from ethnic Albanian parties who do not represent their interests.
Amid the clashes, Serbia placed its army on high alert, moving some units closer to the region's border. Defense Minister Milos Vucevic said that "it is clear that terror against the Serb community in Kosovo is happening."
Meanwhile, a number of Western countries, including the US, France, Italy, Germany, and Britain, issued an unexpectedly harsh public rebuke of Kosovo, condemning the use of force and calling on the local authorities "to immediately step back and de-escalate."
Kosovo unilaterally declared independence in 2008 with the support of the US and many of its allies. The breakaway region is not recognized by several countries, including Russia, China, and Serbia itself. (RT)
Azərbaycan24 sosial şəbəkələrdə