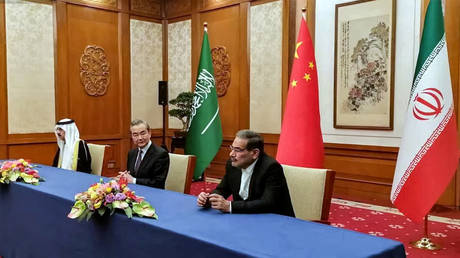 The Saudis are playing Washington off against Beijing for the sake of their own security, the former US diplomat says Iran's top security official Ali Shamkhani (R), Chinese Director of the Office of the Central Foreign Affairs Commission Wang Yi (C) and Saudi Anational security adviser Musaid Al Aiban during talks in Beijing. © AFP / Nour News Agency
China has taken a major step towards its goal of becoming a participant in the shaping of the world order, former US Secretary of State Henry Kissinger has said. The veteran diplomat was commenting on the recent landmark deal between Saudi Arabia and Iran, which Beijing mediated.
Riyadh and Tehran agreed to restore diplomatic relations after a seven-year pause during talks in Beijing a week ago. In comments cited by the Washington Post on Thursday, Kissinger said the development is "a substantial change in the strategic situation in the Middle East."
The Saudis, who have been among Washington's closest allies in the Middle East for decades, "are now balancing their security by playing off the US against China," he explained.
According to Kissinger, Riyadh's actions are comparable to what he himself accomplished in the early 1970s when, as secretary of state in the Nixon administration, he helped achieve rapprochement with Beijing amid its tensions with Moscow.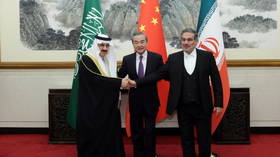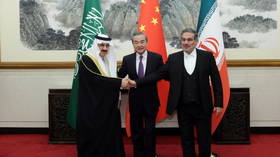 The Saudi-Iranian deal will also complicate matters for Israel, as "pressure on Iran will now have to take into account Chinese interests," he said.
Israel remains increasingly concerned about Tehran's alleged nuclear weapon program, and has warned of potential pre-emptive strikes against Iranian targets.
"China has in recent years declared that it needs to be a participant in the creation of the world order. It has now made a significant move in that direction" by persuading Saudi Arabia and Iran to negotiate, Kissinger said.
The author of the article, Washington Post foreign affairs columnist David Ignatius, also acknowledged that "the US is no longer the indispensable power in the region – the only country strong or supple enough to broker peace deals."
"China has claimed a share of that convening power" by playing the role of mediator on this scale for the first time, he wrote. Another major regional player, the United Arab Emirates, is also "courting" Beijing, Ignatius said.
Chinese President Xi Jinping stated earlier this week that Beijing should "actively participate in the reform and construction of the global governance system" and promote "global security initiatives." In doing so, China will add "positive energy to world peace and development," he added. (RT)
Azərbaycan24 sosial şəbəkələrdə