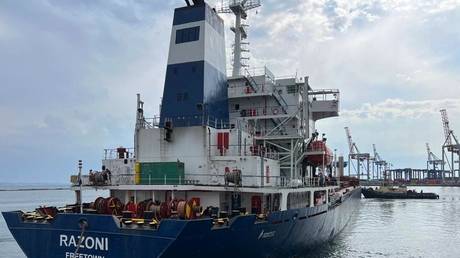 Ukraine has used humanitarian corridors reserved for grain shipments to attack Russian targets, Moscow claims FILE PHOTO. © Sputnik / Turkish Defense Ministry
Ukraine has used the Black Sea grain deal to accumulate sizable military and fuel supplies, Russian Deputy Ambassador to the UN Dmitry Polyansky told the organization's Security Council (UNSC) on Friday. EU nations have also exploited the agreement to reap profits from cheap Ukrainian food products, he said.
Since the UN-facilitated deal was introduced a year ago, "the Kiev regime has built up significant military and industrial [supplies], as well as fuel… storage capacities in the areas near its Black Sea ports," the diplomat said during a UNSC meeting convened after Russia's decision to withdraw from the agreement.
A large number of Ukrainian soldiers and foreign mercenaries have also been stationed in the areas protected under the deal, he said, adding that Russia could "remedy this situation" now that it has left the deal.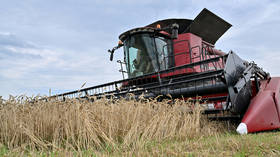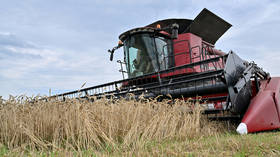 Read more
Moscow lists seven conditions for grain deal resumption
The Ukrainian military did not hesitate to use the humanitarian corridors reserved for the grain shipments to launch attacks on the Russian military and civilian targets, Polyansky said, adding that neither the UN nor Western nations had reacted to such attacks in any way. "Do you just want us to put up with it?" asked the envoy.
The Russian military repeatedly reported on Ukrainian attempts to strike targets in Crimea with both aerial and naval drones, which were mostly thwarted by Russian defense systems. In May, Moscow stated that the Ukrainian forces had taken advantage of the grain corridors to stage attacks on Crimea.
The deal itself, which was initially touted as a humanitarian initiative aimed at helping the poorest nations to avoid a food crisis, was ultimately "commercialized" by the West, Polyansky said.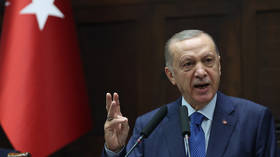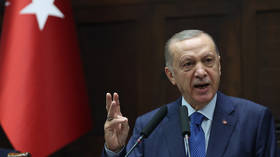 Read more
Erdogan appeals to West over Black Sea grain deal
"Europeans, who buy Ukrainian food products at give-away prices, then process them and re-sell them as manufactured goods with high added value," he continued, adding that EU nations are "benefiting twice" from the deal. "Tell me, where is the goal of providing the poorest nations with food here?" he asked.
Moscow has repeatedly stressed that only a tiny percentage of the grain exported from Ukraine as part of the agreement has been shipped to such nations, while the bulk of it has ended up in Europe. On Friday, Italian Defense Minister Guido Crosetto also stated that "95% of exported Ukrainian grain does not go to Africa." He blamed this for rising food prices on the continent, which were "destabilizing regions that are already in difficulty."
The US Department of Agriculture also said in its July report that almost half of all Ukrainian wheat exports ended up in the EU after the grain deal was struck. Türkiye imported almost a quarter of Ukraine's wheat over the same period, and only roughly one-fifth went to the "rest of the world," the report showed. (RT)
Azərbaycan24 sosial şəbəkələrdə