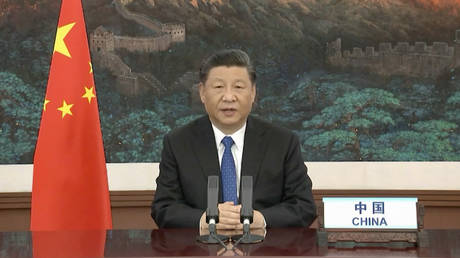 Ukraine is still waiting for a confirmation from Beijing of top-level virtual talks, the country's Deputy Prime Minister says Chinese President Xi Jinping speaks during a video-conference. © AFP / WHO
Ukraine's President Vladimir Zelensky and his Chinese counterpart Xi Jinping have a lot to discuss, but it's currently unclear if their conversation will actually take place, Ukrainian Deputy Prime Minister Irina Vereshchuk has said.
The phone call being considered between the two heads of state "would be an important move. They have things to say to each other," Vereshchuk told Italian newspaper Corriere della Sera on Tuesday.
But when asked if this conversation will happen "for sure," she replied: "I don't know. We're waiting for confirmation."
Xi hasn't talked to Zelensky once since the conflict between Moscow and Kiev started more than a year ago. Last week, the Wall Street Journal reported, citing unnamed sources familiar with the matter, that the leaders of China and Ukraine may hold a "virtual meeting" after Xi returns from his visit to Russia.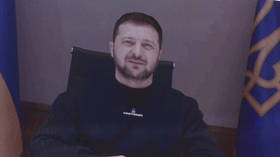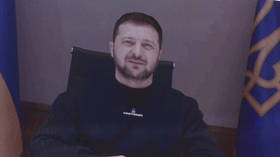 The Chinese leader landed in Moscow on Monday and held nearly five-hour-long, one-to-one talks with Russian president Vladimir Putin on the same day. He met with Russia's Prime Minister Mikhail Mishustin on Tuesday morning, with high-level delegations from the two countries, headed by Putin and Xi themselves, to continue negotiations later in the day.
Beijing's views on the conflict in Ukraine were summarized by Xi in an article he wrote that was published in newspaper Rossiyskaya Gazeta ahead of his visit. China maintains "an objective and impartial position" regarding the crisis, while making "active efforts to promote reconciliation and peaceful negotiations," he wrote.
The Chinese leader pointed out that the settlement of the conflict should be based on the principles laid out in the UN Charter, which "respect the reasonable concern of all states in the field of security" and ensure the stability of global production and supply chains.
However, Vereshchuk said that Kiev expected Beijing to stand with the side seeking what she called "truth and justice" by supporting Zelensky's ten-point "peace plan," which, among other things, calls for the withdrawal of Russian forces to borders claimed by Ukraine, for the payment of reparations and for submission to war-crime tribunals. "The Chinese should understand that the idea of a ceasefire is impossible if it's not preceded by a Russian pullout from the territory of Ukraine," she explained.
Russia instantly rejected Zelensky's proposal as "unacceptable," insisting that it actually proved Kiev's unwillingness to look for a diplomatic solution. (RT)
Azərbaycan24 sosial şəbəkələrdə