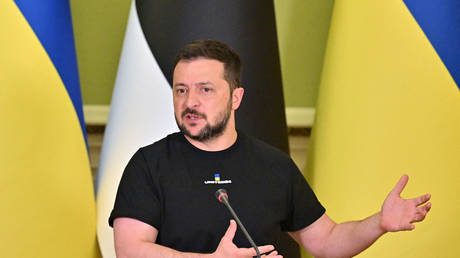 Moscow believes the current fighting will be decisive for the fate of the conflict, the Ukrainian president has claimed Ukrainian President Vladimir Zelensky gestures as he speaks during a joint press conference with his Estonian counterpart Alar Karis, on June 2, 2023. © Sergei SUPINSKY / AFP
Russian troops are responding fiercely to Ukrainian attempts to break through their defenses amid Kiev's long-anticipated counteroffensive, President Vladimir Zelensky admitted in an interview aired on Thursday.
Speaking to NBC News, the Ukrainian leader said Ukrainian troops "are facing very tough resistance" and claimed that "for Russia to lose this campaign to Ukraine… actually means losing the war."
Despite the apparent difficulties, Zelensky attempted to put an optimistic spin on the battlefield situation, describing the news from the front line as "generally positive, but it's very difficult."
The Ukrainian president also reiterated calls for supplies of F-16 fighter jets to Kiev, arguing that deliveries are being hindered by bureaucracy.
"We are losing time, we are losing people, and, the most important thing, we are losing our advantage," Zelensky said, insisting that without Ukraine being given modern Western aircraft, "Russia is controlling the air."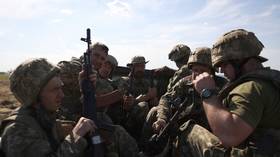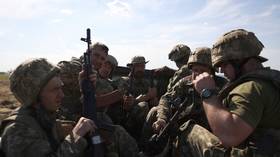 Read more
US demanding big results from Ukraine's counteroffensive, soon – Politico
Zelensky's remarks came as the Washington Post cited officials in Kiev as saying that Ukraine was reluctant to delay its attacks on Russia. According to the outlet, Ukraine wants to demonstrate real battlefield progress before the winter, in order to assure its Western backers that it can prevail.
However, the Post's sources warned that offensive action would result in heavy losses in personnel and equipment, which they claimed would be exacerbated by the lack of Western-made jets and long-range artillery needed to attack Russian targets far from the front line.
Ukrainian forces launched a large-scale offensive on June 4, repeatedly attempting to breach Russian lines in several sections of the front. Their efforts have been to no avail, according to the Russian Defense Ministry. On Wednesday, Moscow estimated Ukrainian frontline losses to be 7,500 soldiers killed or wounded since the start of the offensive.
On Tuesday, Russian President Vladimir Putin also claimed that Ukraine was "taking heavy casualties," which he said were greater than Russia's by a factor of ten. He claimed that Kiev had failed to gain any ground and had lost up to 30% of its Western-supplied equipment. (RT)
Azərbaycan24 sosial şəbəkələrdə