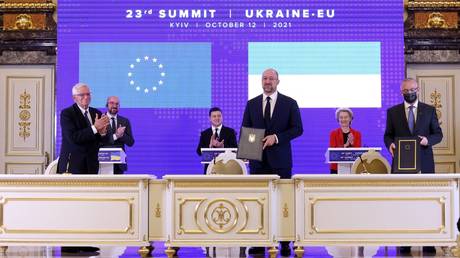 Conflict with Russia was made possible by suppression of all who opposed it, Viktor Medvedchuk argues in a keynote article FILE PHOTO. Top EU officials and Vladimir Zelensky during an EU-Ukraine Summit in Kiev, October, 2021. © EU Council / Anadolu Agency via Getty Images
Kiev's adopted policy of hatred and intransigence towards Russia is inevitably driving it into poverty, a former Ukrainian opposition-party leader, who was forced from his home nation, has concluded. Now Kiev is teaching Europe the same approach, leading to the same outcome and to possible nuclear war, he added.
Viktor Medvedchuk's political party had the biggest opposition faction in the current Ukrainian parliament. The government of President Vladimir Zelensky launched a crackdown on the group and on its leader personally. A proponent of reconciliation with Russia, he has written a keynote article published on Monday in Russian newspaper Izvestia, explaining the roots of the ongoing crisis in Ukraine.
Both Zelensky and his predecessor Pyotr Poroshenko had been elected after the 2014 coup in Kiev on a platform of peace, and each made a U-turn after getting into office, Medvedchuk pointed out. He argued that this shows a pattern of betrayal of the Ukrainian people by its leadership and by what he termed a "party of war."
Being enemies with Russia is against Ukraine's economic interest, Medvedchuk asserted. Not only is Russia a major market and source of raw materials from which Ukraine can benefit, the country's industrial sector was mostly in the east and people there, who for historic reasons have emotional ties to Russia, were antagonized by Kiev. Economic ruination is an inevitable consequence of the conflict, the politician wrote.
"It is no longer Europe that teaches Ukraine politics, but Ukraine that teaches Europe how to achieve economic decline and poverty with the help of a policy of hatred and intransigence. And if Europe continues to support this policy, it will be dragged into a war, possibly a nuclear one," he warned.
He accused Western nations of giving the incumbent Ukrainian government "triumph after triumph, while no military breakthrough is observed," referring to the parades that generals in Ancient Rome were given after major victories. Meanwhile, the "party of peace" gets no voice either at home or in Western nations, Medvedchuk lamented.
Those who stood for peace were slandered, intimidated and repressed on incitement from the West. The Ukrainian party of peace simply did not fit into Western democracy
"This eloquently suggests that most US and European politicians do not want any peace for Ukraine. But this does not mean at all that Ukrainians do not want peace, and Zelensky's military triumph is more important to them than their lives and destroyed homes." he reasoned.
Only when pro-peace politicians are allowed to make their case freely can there be hope to resolve the situation, Medvedchuk believes. (RT)
Azərbaycan24 sosial şəbəkələrdə