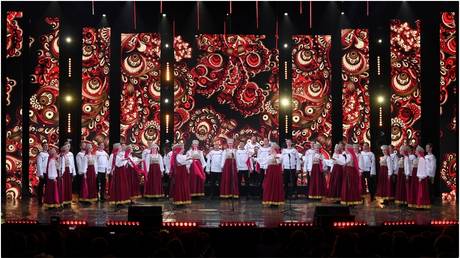 The decision covers everything from books and stage shows to arts and crafts, officials in the Ukrainian capital said A traditional Russian choir performs in Sirius, Russia, June 7, 2023. © Yekaterina Chesnokova / Sputnik
The Kiev city council has voted to impose a broad moratorium on public displays of "cultural products" made using the Russian language, citing the armed conflict with Moscow.
"We must once and for all restrict the Russian-language cultural products on the territory of Ukraine's capital," Vadim Vasilchuk, chair of the council's education and culture commission, said on Thursday. He labeled Russian "the language of the aggressor state that has no place in the heart of our capital."
Vasilchuk explained that the decision means an effective ban on "books, artwork, audiovisual products, musical recordings, arts and crafts, stage and circus performances, concerts and services."
The ruling is part of a wider state-sponsored campaign to eradicate historical and cultural ties with Russia that began in Ukraine after in 2014, when Crimea voted to join Russia following the Western-backed coup in Kiev. The movement escalated in 2022, when Moscow launched its military operation in Ukraine.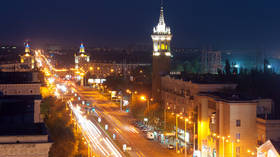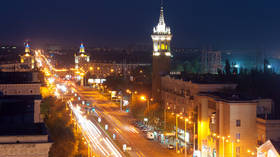 Read more
Kiev's proposal to rename major city is 'lunacy' – Ukrainian MP
In 2015, Ukraine's parliament, the Verkhovna Rada, passed a law on "decommunization" aimed at removing the legacy of the Soviet Union from public spaces such as monuments as well as street and city names. In practice, the campaign has targeted everything remotely Russian, from films and TV shows to individual artists.
In April 2023, President Vladimir Zelensky signed a law that banned names and symbols associated with "Russian imperial policies."
Moscow has repeatedly condemned Kiev's attempts to target the centuries of shared history. President Vladimir Putin cited "the de-Russification and forced assimilation" of ethnic Russians and Russian-speakers in Ukraine and Donbass as one of the causes of the current conflict.
Putin has also blasted attacks on Russian culture in Ukraine and the West, stressing that it has been an inalienable part of European culture. "When someone is trying to destroy Russian culture, it is a suicide attempt, because they are destroying themselves," he said earlier this month. (RT)
Azərbaycan24 sosial şəbəkələrdə