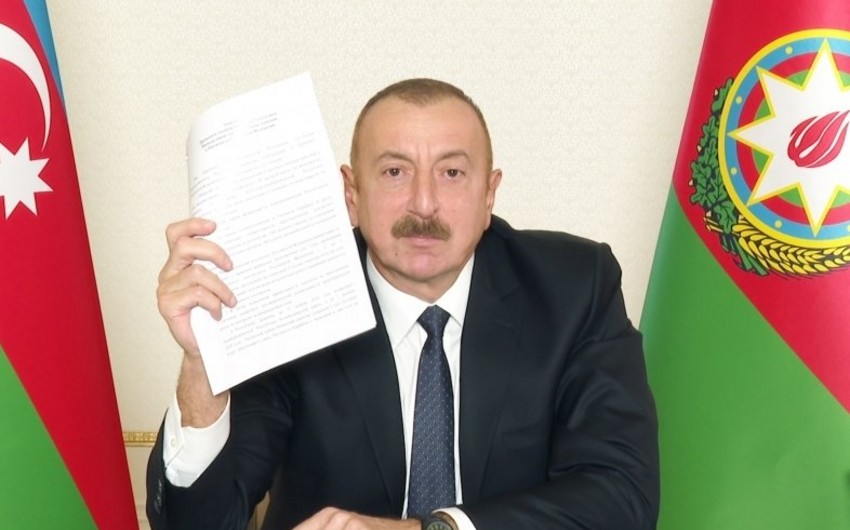 The European information portal EuReporter has published information on key changes in Azerbaijan 200 days after the signing of a trilateral statement on November 9, indicating the complete surrender of Armenia, Report informs.
Since the peace treaty was signed, Azerbaijan has been actively preparing to restore the damage that was caused during the conflict last year. This includes plans to rebuild and redevelop the newly liberated territories and assisting those who were forced to leave during the previous few decades back to their homes.
The ten main advancements that Azerbaijan have made during this 200-day window include:
An allocation of over $1.3 billion by the Azerbaijan government to reconstruct the region. The funds are already being implemented, and works are well underway in the larger towns, including restoring historical monuments, museums, mosques, and more.
The Ministry of Culture has conducted initial measures for territorial monitoring through the registration and inspection of 314 historical and cultural state monuments, most of which had been devastated during the Armenian occupation.
Almost 35,000 unexploded munitions have been cleared from more than 9,000 hectares of land. The planting of these ordnances in the past has either killed or injured over 120 Azerbaijanis.
More than 15,000 people have signed one of the most popular petitions on change.org, appealing Armenia to reveal the locations of the remaining unexploded munitions yet to be found.
Green-focused reconstruction works are underway following significant discussions between the government and large corporations such as TEPSCO and BP to set up renewable energy plants in the liberated territories such as a solar energy production facility.
Starting in 2022, developments for the first Smart Villages will begin in the district of Zangilan. 'Smart Villages' are communities in rural areas that use innovative solutions to improve their resilience, building on local strengths and opportunities.
The reconstruction of infrastructure to facilitate the return of IDPs to the region has begun. The works have so far included 600km of roads, regional interlinking motorways, more than 150km of railway tracks, and planning for the creation of 3 airports: one of which international.
A blueprint for the reformation of the major city of Agdam has been confirmed and approved. It involves creating an industrial park, victory, memorial parks, and links for the motorway and railway connecting Agdam with the Barda district.
An inventory of over 13,000 buildings and more than 1,500 kilometers of roads in 169 settlements in 10 liberated regions has been completed ahead of restoration works. 409 settlements had been obliterated during the Armenian occupation.
For the first time in almost 30 years, Shusha, the cultural capital of Azerbaijan, hosted the Khari Bulbul Music Festival.