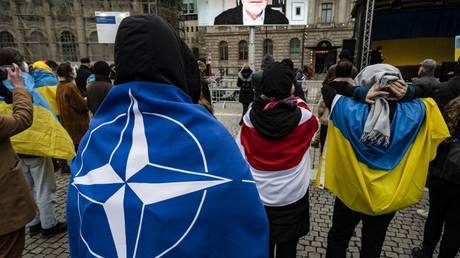 Membership could force Washington to wage a nuclear war on behalf of Kiev, according to an article in Foreign Affairs magazine People draped in NATO and Ukrainian flags attend a rally in Berlin, Germany, March 6, 2022 © AFP / John MacDougall
Welcoming Ukraine into NATO would force the US to choose between nuclear war with Russia or abandoning its security commitments to Kiev, two American analysts claimed on Friday.
"The security benefits to the United States of Ukrainian accession pale in comparison with the risks of bringing it into the alliance," Justin Logan and Joshua Shifrinson of the libertarian Cato Institute wrote in Foreign Affairs magazine.
If Ukraine were to join the alliance amid the ongoing hostilities, Logan and Shifrinson argued, the US and all of NATO's European members would immediately be pulled into open war with Russia, with the potential for a nuclear exchange. However, even if the conflict were to be resolved, Ukraine and Russia will still have competing territorial claims, and a membership offer would risk reigniting the conflict, this time with NATO as a direct participant, they added.
"Under these circumstances, an American commitment to fight for Ukraine would be open to question," they continued. If Ukraine were a NATO member and US policymakers chose not to intervene on its behalf, the bloc's entire collective defense principle would be undermined, resulting in "a true credibility crisis for NATO."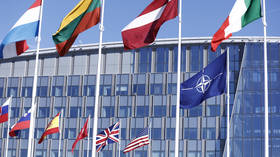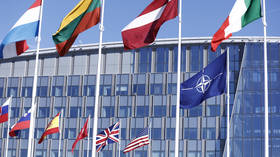 Furthermore, with the US protected by its nuclear arsenal and the vast Atlantic Ocean, the two analysts argued that America faces no direct threat from Russia, while Ukraine – due to its geography – forms "a bulwark" between Western Europe and Russia "irrespective of NATO membership."
"American time, attention, and resources are needed elsewhere," Logan and Shifrinson wrote, concluding that "the United States should accept that it is high time to close NATO's door to Ukraine."
Since the 2008 Bucharest Declaration, NATO's official policy is that Ukraine will become a member of the bloc at an unspecified future date. Kiev, however, is unhappy with this non-commitment, with Ukrainian President Vladimir Zelensky reportedly threatening not to attend NATO's upcoming summit in Lithuania unless the US-led bloc offers "concrete" security guarantees or a roadmap to full membership.
Lithuanian President Gitanas Nauseda has already ruled out a membership offer at the Vilnius summit. French President Emmanuel Macron, however, has called on the alliance's leaders to offer Kiev bilateral or multilateral security guarantees, as well as a "path" to full-fledged membership. British Defense Minister Ben Wallace and a number of Eastern European leaders have called for Ukraine to be fast-tracked into the bloc without the usual "membership action plan" that prospective members must complete.
The White House, meanwhile, maintains that Ukraine "would have to make reforms to meet the same standards as any NATO country before they join." (RT)
Azərbaycan24 sosial şəbəkələrdə