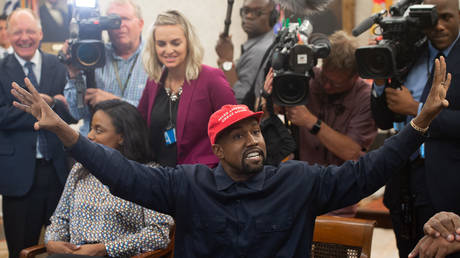 Kanye West has insisted that his presidential bid is not a publicity stunt, explaining in a rollercoaster interview that his newly minted 'Birthday Party' will be anti-abortion, anti-vaccine, anti-Democratic Party and pro-fun.
The billionaire music artist turned sneaker designer told Forbes that he was running to win in November – even though it is too late for him to register as a candidate in some states. (He'll win in 2024 if things don't work out this time around, he explained to the magazine.)
Although billing himself as an independent, West says he is forming a new Birthday Party to defeat Democrat Joe Biden and Republican incumbent Donald Trump. He chose the name "because when we win, it's everybody's birthday."
He is reportedly being advised by Tesla CEO Elon Musk, and he has selected a little-known preacher from Wyoming, Michelle Tidball, as his running mate. West announced that their campaign slogan is "YES!" – not "YEP" or "YEAH," he clarified.
His platform contains an eclectic array of positions. West told Forbes that he was "extremely cautious" about efforts to develop a vaccine for coronavirus, claiming that "they are trying to chip us" and that the vaccine represents "the mark of the beast." The billionaire also came out strongly against abortion, accusing Planned Parenthood of doing the "Devil's work."
Also on rt.com 'Yeezy for President': Imprisoned 'Pharma Bro' Martin Shkreli endorses Kanye West, says he can be treasury secretary
West acknowledged that he hasn't hammered out a foreign policy yet, as he wants to "focus on ourselves first" – a position which sounds similar to Trump's 'America First' worldview. He also has no position on taxes, but he promised to consult "experts that serve God and come back with the best solution."
The Birthday Party has very strong feelings about fun, however.
"When I'm president, let's also have some fun. Let's get past all the racism conversation, let's empower people with 40 acres and a mule, let's give some land, that's the plan," he told Forbes.
The reference comes from a post-Civil War plan which called for free land for newly freed slaves in the South. (RT)