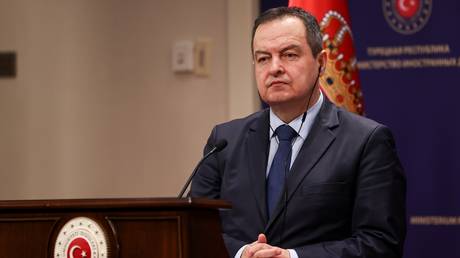 Foreign minister Ivica Dacic said the embargo on Moscow would harm Belgrade Serbian Foreign Minister Ivica Dacic at a press conference in Ankara, January 26, 2023. © Murat Gok / Anadolu Agency via Getty Images
Serbia has not joined the US-EU sanctions against Russia for several reasons that remain valid, Foreign Minister Ivica Dacic said on Thursday, speaking in Ankara after meeting with his Turkish counterpart Mevlut Cavusoglu.
The European Parliament last week demanded from Belgrade "full alignment" with the bloc's foreign and security policy – including the embargo against Moscow. Dacic noted that his government has not joined the anti-Russian embargo out of "national and state interests, economic cooperation, as well as problems Serbia has with Kosovo," referring to the NATO-backed breakaway province.
"It would be inappropriate for Serbia to sanction Russia now, and it would be harmful to our interests," Dacic said. "That doesn't mean we won't do everything to clearly say we don't support the infringement of Ukraine's territorial integrity and help as much as we can."
Dacic has sought the support of Türkiye in helping Serbia deal with US and EU pressure over Kosovo. He also indirectly reminded reporters that Ankara has not joined the sanctions against Russia either.
"I think Serbia and Türkiye want to be constructive factors of peace and stability," the Serbian FM said. "Our interest is not to be on anybody's side in some conflict, we advocate the respect for territorial integrity and sovereignty of every UN member state."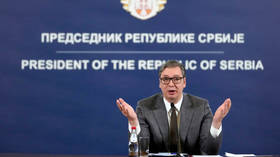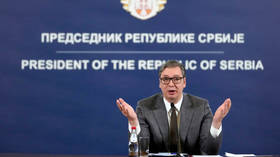 Read more
Ukraine conflict 'will soon spread' – Serbian president
While insisting that Serbia must sanction Russia because of Ukraine's territorial integrity, the EU and the US also demand Belgrade recognize Kosovo, or face economic and political "consequences."
Belgrade insists on the principle of territorial integrity because the US and the EU have been pressuring it to recognize Kosovo as an independent state since 2008. NATO troops took control of the province in 1999, after months of bombing Serbia on behalf of ethnic Albanian insurgents.
Serbia's position on Kosovo has received support from Russia, China and many other countries – including Ukraine – on grounds of international law. This is one of the reasons Serbia officially does not recognize Donetsk, Lugansk, Kherson, Zaporozhye, or even Crimea, as parts of Russia. (RT)
Azərbaycan24 sosial şəbəkələrdə