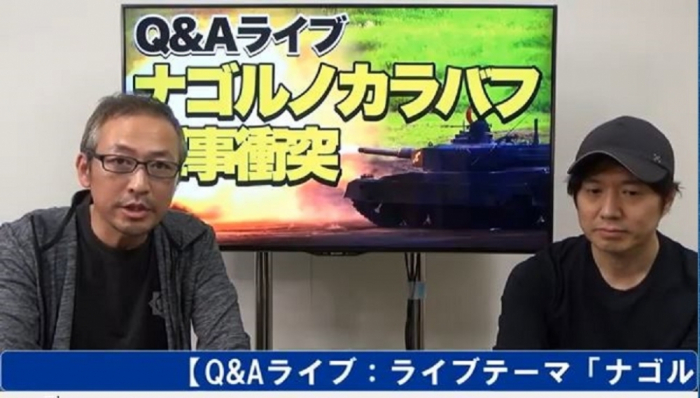 On October 1, Japan's "Borderlands 3.0" YouTube channel broadcasted a special program on the latest provocations committed by Armenia against Azerbaijan.
The hosts of the program, Kazuyasu Ishida and Yasuhiro Ishibashi informed the Japanese audience about the bloody clashes between Armenia and Azerbaijan, which have recently become tense and attracted the attention of the whole world, according to AZERTAC.
The guests of the online program, which lasted about 1 hour and 10 minutes, were the chairman of the Azerbaijan-Japan Friendship Center, member of the Coordinating Council of World Azerbaijanis Khalil Kalantar, and AZERTAC's special correspondent in Japan. They spoke in detail about the history and causes of the incident. The guests gave detailed information about the resettlement of Armenians to Azerbaijani lands since the early 19th century, the expulsion of Azerbaijanis from Western Azerbaijan and Nagorno-Karabakh, and the establishment of the Republic of Armenia and the Nagorno-Karabakh Autonomous Region in the Armenian-dominated territories after the Russian revolutions of the early 20th century.
It was noted that after the resettlement of Armenians to Azerbaijani lands, they committed genocides against local Azerbaijanis and other peoples living in these territories. The Armenians occupied the Nagorno-Karabakh region and seven surrounding regions with the support of foreign patrons, taking advantage of the turmoil created by the collapse of the former USSR at the end of the last century. The guests also emphasized that Azerbaijanis and representatives of other peoples living in those areas were either expelled from their ancestral lands or killed. They underlined that the conflict is going on in the occupied territories of Azerbaijan.
Answering the questions of the presenters and viewers during the program, the guests noted that some media outlets do not objectively assess the events and called for being careful with regard to the fake news circulated by Armenians and their supporters.
During the program, Japanese viewers were presented with videos, photos, and maps with objective coverage of the events.