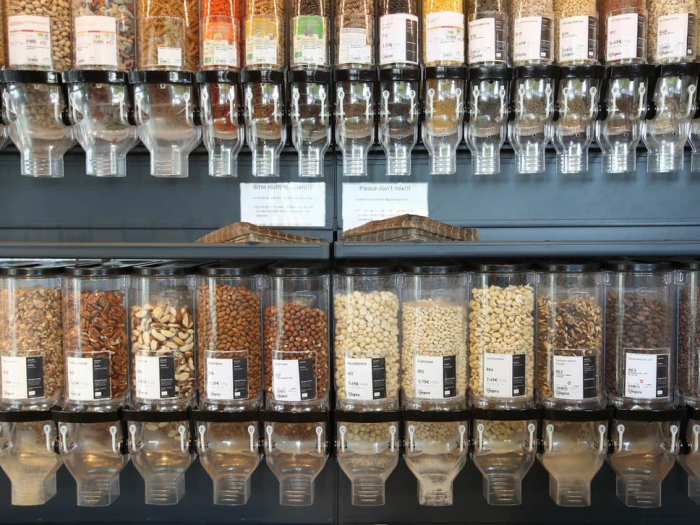 Shoppers in Italy could soon receive discounts at the checkout on products sold without packaging under measures proposed by the government to reduce single-use plastic.
Food, drinks, shampoos, liquid washes and detergents sold from dispensers or in reusable containers would be cheaper, and shop bosses would be given financial incentives to offer products this way.
As part of a series of measures, which are due to be debated in cabinet on Thursday, shops would have new "green corners", and people who give up their cars and mopeds could be offered public transport season tickets or support to buy bicycles.
There would also be an urban reforestation plan, a €20m (£17.4m) investment in electric and hybrid school buses and an environmental campaign in schools.
It comes days after Sainsbury's, the second largest supermarket chain in the UK, removed all plastic bags for loose fruit and vegetables, offering instead net bags made of recycled bottles and encouraging customers to bring their own containers.
Supermarkets have come under a barrage of pressure from shoppers angry at the amount of plastic packaging on goods.
A Greenpeace report last year on supermarkets' plastic packaging found supermarkets were not moving fast enough to remove unnecessary and non-recyclable plastic.
Earlier this year, Tesco pledged to ban any brands using excessive packaging from next year.
Giuseppe Conte, the Italian prime minister, said the country was seeking to be a leader in making its economy more sustainable, the Guardian reported.
On Thursday night, the country's council of ministers passed new environmental laws described by Sergio Costa, the environment minister, as "a revolution for the system… and the base on which we are founding the green new deal".
Mr Costa wrote on Facebook that while most attention is on the oceans, most waste ends up in rivers.
"If on the one hand it is true that the amount of plastic envelopes in rivers has decreased, thanks to European regulations and the introduction of biodegradable envelopes, up to about 1 per cent density, on the other we must note that the amount of bottles increased, reaching even 14 per cent, followed by food wrappers with 12 per cent, not to mention cigarette butts, with 9 per cent.
"Plastic waste in rivers represents about 37.5 per cent of the total present."
The Independent