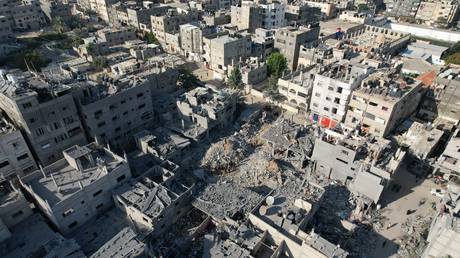 The true goal of the operation is to force Palestinians out of the enclave, the political analyst told RT An aerial view of destruction as a result of Israeli attacks in Khan Yunis, Gaza © Getty Images / Mohammed Fayq; Anadolu
Israel's claims that it is only bombing Gaza to eliminate Hamas are "insane," political analyst Jackson Hinkle said in an interview with RT on Thursday. He argued that Israeli forces appear to be focusing on targeting the civilian population of Gaza in their ongoing campaign.
"They've bombed everything but Hamas inside of Gaza," the host of 'The Dive with Jackson Hinkle' said, accusing Israel of targeting various civilian infrastructure, including hospitals, schools, UN and Red Crescent facilities, mosques, churches, homes, and even evacuee convoys.
The analyst suggested that this is because Israel does not want a Palestinian state, and that the true purpose of its operation in Gaza is not to defeat Hamas, but rather to force Palestinians out and take over the enclave "once and for all."
"The reason why they're doing all of this is that they know they can't defeat Hamas. That's why they haven't gone into Gaza. They know that if they will, they'll probably have a response from many Arab states, and maybe Iran as well. They know that in a war of that magnitude they wouldn't win," Hinkle claimed.
He argued that while Israeli authorities have attempted to paint Hamas as being aligned with or comparable to Islamic State (IS, formerly ISIS), Israel's own actions in Gaza seem to closely resemble terrorist tactics.
Commenting on Washington's announcement that it will "stand forever" with Israel and President Joe Biden's proposal of a $14 billion package of military aid to the Jewish state, Hinkle called to "defund Israel" and "defund Ukraine" as well.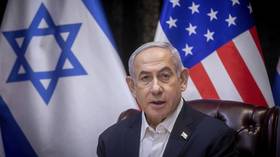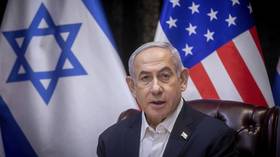 Read more
Netanyahu delaying Gaza ground invasion plans – NYT
"Why is it that US taxpayer dollars are going to nations like this? Or more importantly, nations that are committing such horrific war crimes on a daily basis," Hinkle questioned. He stated that the US is currently experiencing a crisis on its own southern border and is dealing with over 500,000 homeless people, 60,000 of which he claimed are veterans.
"It makes no sense to me that we're doing this and Joe Biden just sent about 900 US Marines to Israel," Hinkle said, adding that he believes "we're about to see a very big war."
The Israel Defense Forces (IDF) have been relentlessly bombarding Gaza for almost three weeks, following the October 7 surprise attack on Israel by Hamas, which claimed 1,400 lives. The Gaza Health Ministry has since reported that Israeli strikes have killed over 7,000 people. On Friday, the ministry published the names of 6,747 people, including 2,665 children, it claims have been killed by the IDF. It noted that the list is incomplete as many bodies remain unidentified or missing.
Azərbaycan24 sosial şəbəkələrdə