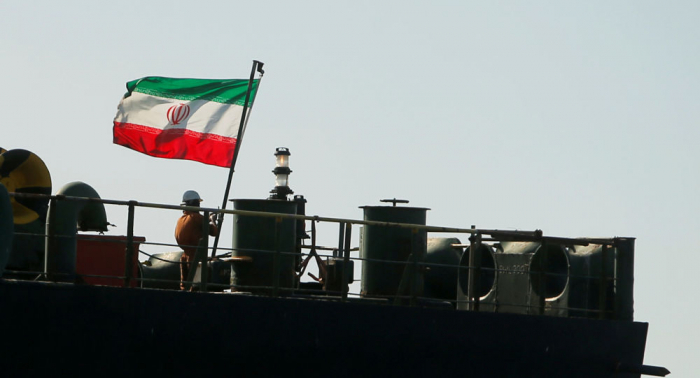 On Saturday, US National Security Advisor John Bolton posted a satellite image which he said was Iran's Adrian Darya 1 tanker loitering two nautical miles off the coast of the Tartus naval facility in Syria, and accused Tehran of "lying" about its alleged commitment not to send the tanker to Syria after its release by Gibraltar authorities last month. Tehran says it gave no such commitments.
Iran's Adrian Darya 1 tanker has made it to its destination, and its oil sold, Iranian foreign ministry spokesman Abbas Mousavi has announced.
"The tanker has gone to its destination, the oil has been sold," Mousavi said, speaking to Iranian television on Sunday, his remarks quoted by Reuters.
The spokesman did not clarify whether the ship's crude oil cargo has been delivered, and did not specify the destination country.
Earlier, Trump National Security Advisor John Bolton posted a satellite image reportedly showing the ship sitting off the coast of Syria on Saturday. Last week, it was reported that the Adrian Darya 1 was travelling somewhere between Cyprus and Syria, with its transponder, turned off and its exact location unknown amid US threats to arrest the commercial vessel and to sanction any country where the ship docks.
On Wednesday, Iranian Foreign Minister Mohammad Javad Zarif accused the US of resorting to "outright blackmail" after US media revealed that Washington had sought to offer the Adrian Darya 1's captain and the captains of other Iranian commercial vessels cash in exchange for the 'surrender' of their ships to US custody, on penalty of personal sanctions.
No Waivers
Also on Sunday, a US official announced that US would continue its campaign of "maximum pressure" against Iran, and said no waivers for major importers would be provided.
"We will continue to put pressure on Iran and as President [Trump] said, there will be no waivers of any kind for Iran's oil," US Treasury Secretary for Terrorism and Financial Intelligence Sigal Mandelker said in a statement.
The US lifted waivers issued to over half a dozen major purchasers of Iranian oil in May, threatening to slap sanctions on buyers if they continued to do business with the Islamic Republic. China was the only major buyer of Iranian oil to ignore the sanctions, although it too has reduced imports to about half of their pre-US sanctions levels.
According to Mandelker, Iranian oil sales abroad have dropped substantially thanks to US pressure. The official said the US would continue imposing sanctions on "whoever" buys Iranian oil.