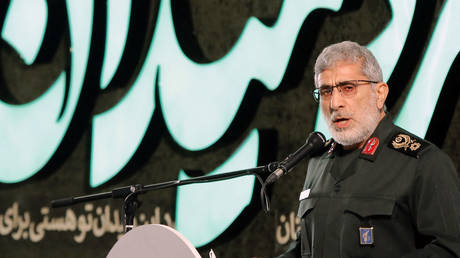 The Quds Force leader made the pledged following reports that Tehran was seeking to avoid direct involvement in the Gaza conflict FILE PHOTO: Iranian Quds force commander Esmail Qaani speaks at an event in Tehran, Iran, January 1, 2021. © AFP / Stringer
The head of Iran's elite Quds Force has vowed to do "whatever it takes" to back Hamas in its war with Israel, claiming that the Palestinian militant group is headed for an "impressive victory" in Gaza.
In a letter addressed to the commander of Hamas' armed wing, the Ezzedine al-Qassam Brigades, Quds Force leader Esmail Qaani declared that Tehran and its allies "will not allow this brutal enemy and those standing behind him to conquer Gaza and its heroic people."
"We will do whatever it takes in this historic battle," Qaani said, adding that Hamas had "proved to everyone that the resistance in Gaza is capable of initiative and innovation, while maintaining its organization and field capabilities."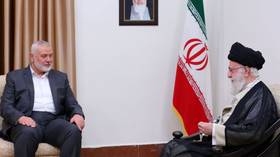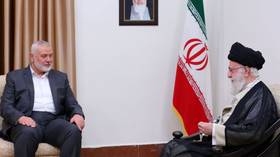 Published on Thursday by the state-backed Islamic Republic News Agency (IRNA), the letter comes just one day after Reuters reported that Iran's supreme leader, Ayatollah Ali Khamenei, had informed Hamas that his country would not get directly involved in the Gaza war. Instead, Khamenei reportedly restated Iran's long standing "political and moral support" for Hamas, but ruled out military intervention.
Earlier on Thursday, however, top Hamas official Osama Hamdan dismissed the Reuters story, telling IRNA: "Instead of providing information, this news agency has published worthless lies." He added that such reports are intended to harm the image of Hamas and its allies in the "axis of resistance" – a network of Iran-backed militia groups in Iraq, Syria, Lebanon and Gaza.
Iranian officials have yet to comment on the Reuters report.
Qaani went on to congratulate the Palestinian armed faction for an "impressive victory and qualitative achievement that is unprecedented in the history of the conflict," assuring that "Your brothers in the resistance axis stand united with you."
The Quds Force is the foreign operations arm of Tehran's Islamic Revolutionary Guard Corps (IRGC), responsible for military and intelligence missions beyond Iran's borders. Qaani took over the force in 2020 after his predecessor, Qasem Soleimani, was killed in a US drone strike near Baghdad. (RT)
Azərbaycan24 sosial şəbəkələrdə