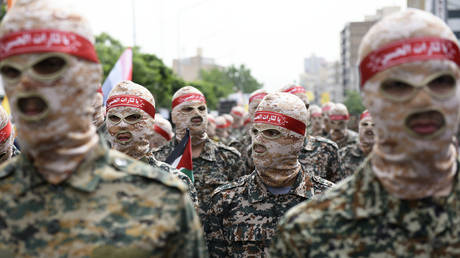 Tehran says that one of its officers has been "martyred" in a deadly airstrike in Syria FILE PHOTO: Islamic Revolutionary Guard Corps (IRGC) members. © Sobhan Farajvan /Pacific Press / LightRocket via Getty Images
Iran has pledged to retaliate after claiming that an officer in its Revolutionary Guards Corps (IRGC) was killed on Friday in an Israeli airstrike near the Syrian capital Damascus. West Jerusalem has not responded to the Iranian allegation, in keeping with its unofficial policy of rarely commenting on strikes in the region.
"The Islamic Revolutionary Guards Corps has announced the martyrdom of guardsman Milad Haydari, one of the IRGC's military advisers and officers," the IRGC said of the apparent Israeli strike in a statement broadcast by Iranian media on Friday.
Tehran called the attack a "criminal" action which it pledged would not go "unanswered."
As Iran's influence in Syria grew thanks to its support for President Bashar Assad in the civil war which began in 2011, Israel has frequently struck what it says are Iran-linked targets in the country. Tehran maintains, however, that its officers serve in advisory positions only. It has reportedly lost dozens of IRGC officers throughout the conflict, according to Reuters.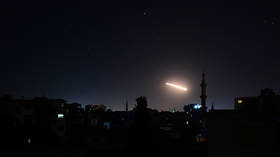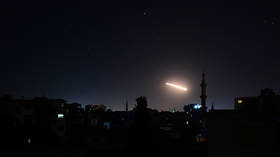 Read more
Syria reports another missile attack
Hezbollah, the Lebanese militant group, and various Iraqi paramilitary outfits, all backed by Iran, have fortified positions in and around Damascus, as well as in Syria's north, east and south.
According to local reporting, Israel launched the barrage of missiles shortly after midnight local time, early on Friday. Syria claims to have shot down an unknown number of missiles.
The foreign ministries of Iran and Syria have both strongly condemned Friday's airstrikes.
Last week, the Pentagon said Iran-linked militias killed an American contractor and injured another in a drone attack at a base housing US soldiers. Washington retaliated the same day with an attack on facilities used by IRGC guards in Syria. (RT)
Azərbaycan24 sosial şəbəkələrdə