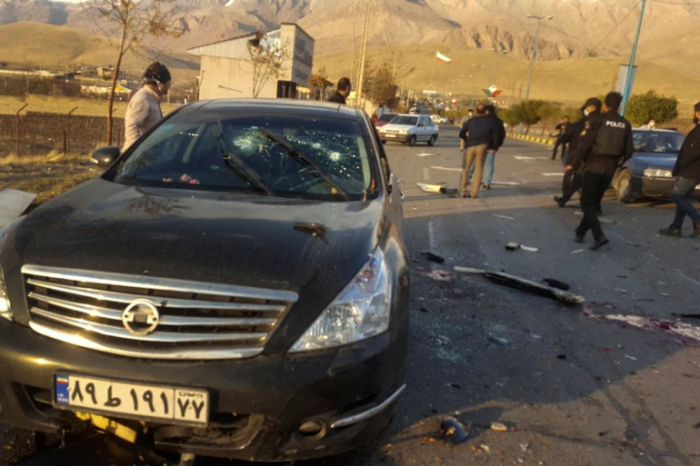 Mohsen Fakhrizadeh, an Iranian scientist who, Israel alleged, led the Islamic Republic's military nuclear programme until its disbanding in the early 2000s has been "assassinated", state television reported.
Fakhrizadeh was shot and injured "by terrorists" in his vehicle in Absard, a suburb in eastern Tehran, and later succumbed to his injuries in what amounted to a "martyr's death," Iran's Foreign Ministry said on Friday.
Local authorities had confirmed Fakhrizadeh's death several hours earlier and also said that several attackers were killed.
Israel declined to immediately comment on the killing of Fakhrizadeh, whom Israeli Prime Minister Benjamin Netanyahu once called out in a news conference saying: "Remember that name."
Israel has long been suspected of carrying out a series of targeted killings of Iranian nuclear scientists nearly 10 years ago.
The semiofficial Fars news agency said witnesses heard the sound of an explosion and then machine gun fire. The attack targeted a car that Fakhrizadeh was in, the agency said.
Those wounded, including Fakhrizadeh's bodyguards, were later taken to a local hospital, the agency said.
State television on its website later published a photograph of security forces blocking off the road. Photos and video shared online showed a Nissan sedan with bullet holes through windshield and blood pooled on the road.
No group immediately claimed responsibility for the attack.
Iran's foreign minister has alleged the killing Fakhrizadeh has "serious indications" of an Israeli role.
"Terrorists murdered an eminent Iranian scientist today. This cowardice – with serious indications of Israeli role – shows desperate warmongering of perpetrators," Mohammad Javad Zarif wrote on Twitter on Friday.
The military adviser to Iranian Supreme Leader Ayatollah Ali Khamenei vowed to strike against the killers of Fakhrizadeh, who died of injuries in hospital after armed assassins fired on his car, state media reported.
"We will strike as thunder at the killers of this oppressed martyr and will make them regret their action," military commander Hossein Dehghan tweeted.
Iranian Defence Minister Brigadier General Amir Hatami also tweeted that the assassination displayed "the depth of enemies' hatred" towards the Islamic Republic.
Fakhrizadeh led Iran's so-called Amad (Hope) programme. Israel and the West have alleged it was a military operation looking at the feasibility of building a nuclear weapon in Iran. Tehran has long maintained its nuclear programme is peaceful.
The International Atomic Energy Agency says that the Amad programme ended in the early 2000s. Its inspectors now monitor Iranian nuclear sites.
Al Jazeera