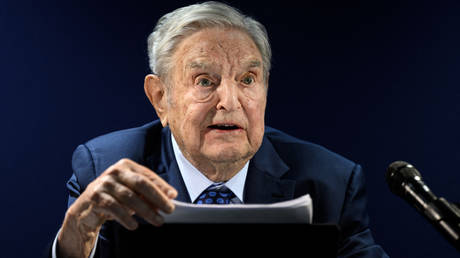 At least 54 high-profile media personalities are connected to groups the tycoon helped finance, MRC Business has claimed Hungarian-born US investor and philanthropist George Soros addresses the assembly on the sidelines of the World Economic Forum (WEF) in Davos. © Fabrice COFFRINI / AFP
Billionaire George Soros has links to dozens of prominent media figures in the US and beyond via organizations he funded, a conservative US watchdog claims.
In the last report of a three-part investigation, published on Tuesday, MRC Business examined the ties of the Budapest-born liberal mogul, coming to the conclusion that he "cemented himself as one of the most powerful influencers in global politics through his incredible influence in the media."
MRC Business said that it had uncovered at least "54 major figures in journalism and activist media who are connected to Soros-funded organizations." The list includes CNN's chief international anchor Christiane Amanpour, NBC News anchor Lester Holt, and Cesar Conde, the NBCUniversal News Group chairman, who oversees the outlets NBC News, MSNBC, and CNBC.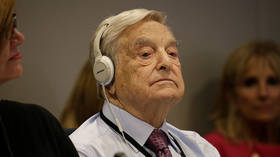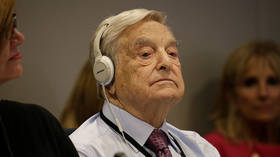 Read more
Study reveals George Soros' global media ties
Many of the 54 individuals play prominent roles in institutions funded by Soros. For instance, Amanpour is a senior adviser at the Committee to Protect Journalists (CPJ), which received $2.75 million from the mogul between 2018 and 2020, while Holt is listed as a board member in the same organization. Conde is a trustee at the Aspen Institute, which received over $1 million from the billionaire between 2016 and 2020.
According to MRC, in total Soros has funneled over $32 billion into his organizations in a bid "to spread his radical 'open society' agenda on abortion, Marxist economics, anti-Americanism, defunding the police, environmental extremism and LGBT fanaticism." These efforts have paid off, allowing him to "help indoctrinate millions with his views on a day-to-day basis", the group claims.
MRC has previously claimed that Soros has financial ties to at least 253 media organizations globally, funding them through his non-profit groups and enabling him to reach viewers and listeners in virtually every corner of the world.
Commenting on the report, Russian Foreign Ministry spokeswoman Maria Zakharova noted on Thursday that such revelations could be compared to a "nuclear bombshell." Should it be proven that the leading US media outlets "received money for adjusting their coverage, all US democracy could be wrapped up in their Constitution and thrown out into the garbage heap of history," she said. (RT)
Azərbaycan24 sosial şəbəkələrdə