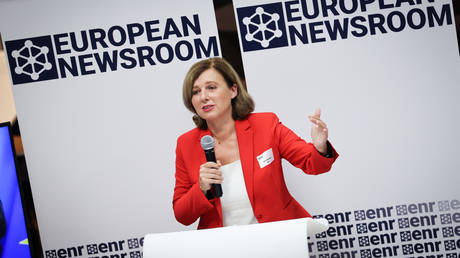 People in some member states are siding with Moscow on Ukraine, Brussels' transparency chief has warned FILE PHOTO: Vera Jourova, Vice President of the EU Commission and Commissioner for Values and Transparency. © Christian Charisius / picture alliance via Getty Images
EU member states should spend more money on "strategic communications" because "Russian propaganda" is affecting their people, a senior official from the bloc has said. RT must remain banned in the region, while "independent" Russian media based in European nations need support, EU Commissioner Vera Jourova added.
The Czech politician and European Commission veteran, who currently serves as its vice president for values and transparency, expressed her concern about the growing popularity of Russian positions on issues like the conflict in Ukraine during an interview with German newspaper Bild on Sunday.
"In many countries, the narrative that Russia is not the aggressor but the victim is on the rise," Jourova told the outlet. "In Slovakia, more than 50% of the population believe in conspiracy theories, including those about the Russian war of aggression. To this day, we underestimate the influence of Russian propaganda."
Moscow maintains that the conflict in Ukraine stems from NATO's unchecked expansion in Europe and the failure of Western nations to heed Russian warnings about how it was perceived by the country. A last-ditch attempt to de-escalate the situation was taken by the Russian government in 2021, but it was told that its concerns were unfounded and that Ukraine had a right to seek membership of the US-led military organization. From Russia's perspective, the conflict is part of a proxy war against it by the West.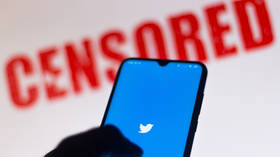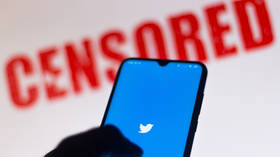 The problem with EU citizens agreeing with the Russian position is that Moscow "invests billions in its propaganda and we hardly do anything to counter it," Jourova claimed. She urged member states to invest more in "strategic communications and the fight against disinformation."
Germany, Jourova suggested, is a particularly important target for Russia. She said she was worried about "infiltration of the peace movement" in the country.
"Claiming that anyone supplying arms is a warmonger is extremely dangerous," she explained. "This only serves to weaken the support for Ukraine."
The commissioner praised the EU's censorship of RT, describing the channel as "not a media outlet" but rather a "wartime propaganda weapon" that has no place in Europe.
"We should instead support the independent Russian media," she suggested. "Many of them are here in Berlin and in other European cities."
The vice president's office is reportedly behind a push to introduce a law in the EU to crackdown on "foreign agents." Politico reported on a survey of nonprofits in March, who were asked whether they had foreign sources of funding. This was conducted ahead of a legislative package intended to "defend democracy."
Azərbaycan24 sosial şəbəkələrdə