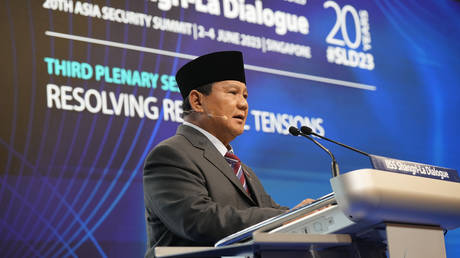 The multi-point initiative includes a ceasefire and a UN-monitored demilitarized zone Indonesia's Minister of Defense Prabowo Subianto, delivers his speech during the 20th International Institute for Strategic Studies (IISS) Shangri-La Dialogue, Asia's annual defense and security forum in Singapore, Saturday, June 3, 2023. © AP Photo/Vincent Thian
Indonesia's defense minister presented a new peace initiative on Saturday aimed at resolving the conflict in Ukraine. Prabowo Subianto urged military officials from around the world to issue a declaration calling for a cessation of hostilities.
Speaking at the Shangri-La Dialogue defense meeting in Singapore, Prabowo shared his multi-point plan, which would include a ceasefire and the establishment of a demilitarized zone, with both Russia and Ukraine withdrawing 15km (nearly 10 miles) from their respective forward positions.
The defense minister emphasized that the demilitarized zone should be monitored by a United Nations peacekeeping force. Additionally, he suggested conducting a UN-sponsored referendum in the disputed territory to objectively determine the wishes of the majority of the inhabitants. He didn't specify the regions to which he was referring.
"I propose that the Shangri-La Dialogue find a mode of… voluntary declaration urging both Ukraine and Russia to immediately start negotiations for peace," Prabowo said.
During the same panel discussion, Josep Borrell, the high representative and vice president of the European Commission, acknowledged that ending military support for Ukraine would lead to a swift conclusion of the war. However, he cautioned against such a move, as it could result in the country's sovereignty being compromised by external force.
"We need to bring peace to Ukraine," but it must be a "just peace, not a peace of surrender," Borrell said, commenting on the Indonesian proposal.
Indonesia's peace initiative follows President Joko Widodo's visit to Moscow and Kiev last year, during which he offered to mediate peace talks between the two leaders. President Widodo, who was chairing the G20 group of major economies at the time, expressed his willingness to act as a peace broker.
Despite voting in favor of a United Nations resolution denouncing Russia's offensive in Ukraine, Indonesia has refrained from imposing economic sanctions on Moscow.
In February this year, China also put forward a 12-point peace plan for Ukraine. The document largely restated Beijing's stated positions on the conflict in Ukraine, emphasizing the importance of dialogue, respect for territorial sovereignty of all nations, and the cessation of economic sanctions. The plan urged all parties involved to avoid any escalation involving nuclear weapons. Notably, however, it did not propose or suggest the withdrawal of Russian forces from the region. (RT)
Azərbaycan24 sosial şəbəkələrdə