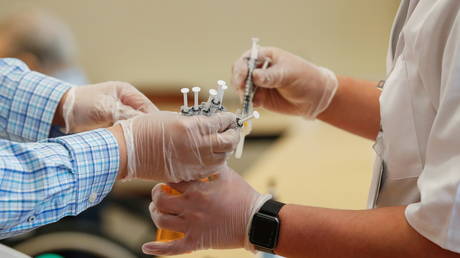 A family of four in Indiana claims it was given Covid-19 vaccinations in error after showing up at a Walgreens location for flu shots – not the first time such a mix-up has been reported at the pharmacy chain.
Alexandra and Joshua Price of Evansville, Indiana told local media that they and their two young children were scheduled for flu shots at a local Walgreens on October 4, but were instead administered coronavirus shots by mistake. Though no Covid vaccine is approved for children younger than the age of 12, the Price family says their 4- and 5-year-old were given full adult doses of the Pfizer shot.
The family's lawyer, Daniel Tuley, provided vaccination cards to local media, which he says were given to the Price family after the mix-up was discovered. The cards show the names and dates of birth for each family member – including the two children, born in 2016 and 2017 – and noted that they were given the Pfizer formulation at a Walgreens vaccination site.
The Prices say they initially left the appointment believing that they had, in fact, received flu shots, but were informed by a Walgreens employee that there was an error a short time later.
"Walgreens called me to say there was a mix-up, we did not receive the flu shot," Alexandra told a local NBC affiliate. "And I'm like 'Well what did we get?' And he was like we got the Covid-19 shot, And instantly I was like, 'Well what does this mean for my kids?'"
Also on rt.com Suspected anti-vax nurse replaced Covid-19 jabs with saline, affecting thousands in Germany, local authorities reveal
The concerned mom then brought the children to a pediatrician, she says, and was told some irregularities were detected. "[The cardiologist] said our daughter was having higher blood pressure than she would like," Alexandra said, adding that "our son was having tachycardia," referring to an abnormally fast heart rate.
It is unclear whether the symptoms had any link to the vaccines, though health officials have raised concerns about the increased risk of heart issues, particularly for younger recipients of the Covid immunizations. Reports of adverse reactions remain rare, however. (RT)