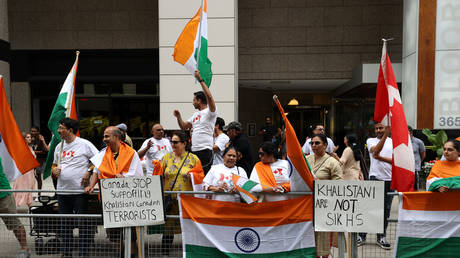 The agency outsourcing the visa processing said services were discontinued "due to operational reasons" Pro-India counter protestors counter pro-Khalistan supporters at a demonstration in front of the Indian Consulate in Toronto, Ontario, Canada on July 8, 2023. © Mert Alper Dervis/Anadolu Agency via Getty Images
The Indian visa application center in Canada has announced the indefinite suspension of services for Canadian nationals, citing "operational reasons" for the decision.
This move occurred against the backdrop of a growing diplomatic dispute between the two countries, sparked by allegations of India's involvement in the murder of a Sikh separatist.
BLS International, the private company that processes visa applications for India in Canada, posted an announcement on its website. "Important notice from the Indian Mission: Due to operational reasons, with effect from 21st September 2023 [Thursday], Indian visa services have been suspended till further notice," the note read.
India's Ministry of External Affairs (MEA) has not made any formal announcement regarding the suspension of visa services and the Indian High Commission in Ottowa's website could not be accessed on Thursday at the time of writing.
The suspension, which effectively bans Canadians from obtaining an Indian visa, followed an MEA advisory on Wednesday asking Indian nationals and students in Canada to exercise caution due to alleged anti-India activities and "politically-condoned hate crimes." Indians account for over 40% of the total number of international students in Canada.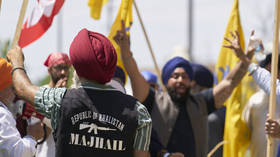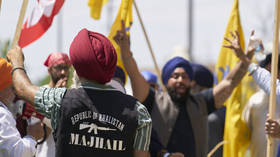 For its part, the Canadian High Commission in India has also announced it would "temporarily adjust staff presence" in the country following alleged "security threats" to diplomats.
"In light of the current environment where tensions have heightened, we are taking action to ensure the safety of our diplomats. With some diplomats having received threats on various social media platforms, Global Affairs Canada is assessing its staff complement in India. As a result, and out of an abundance of caution, we have decided to temporarily adjust staff presence in India," the diplomatic mission told ANI news agency in a statement on Thursday.
The statement added that the High Commission and all consulates in India are "open and operational and continue to serve clients."
Canada has also sought additional security around its missions, including the High Commission in New Delhi and consulates in Mumbai, Chandigarh, and Bengaluru. Similarly, India has asked for more security at its High Commission in Ottawa and consulates in Toronto and Vancouver.
India's request for tightening security came after the Sikhs for Justice (SFJ), an organization banned by the Indian government in 2019, issued a threat to "shut down Indian missions," describing them as "terror houses." In a video that went viral on social media, SFJ's legal counsel, Gurpatwant Pannun, who is designated as a terrorist in India, threatened Hindus of Indian origin and asked them to leave Canada. Indian officials have previously called for Pannun's extradition.
On Monday, Canadian Prime Minister Justin Trudeau sparked off a diplomatic row after he alleged before Parliament that India was involved in the killing of Indian-Canadian Sikh separatist leader Hardeep Singh Nijjar in June of this year. Trudeau's government has not revealed any evidence to support the allegations but has insisted that they are highly credible. India has strongly denied the accusations. (RT)
Azərbaycan24 sosial şəbəkələrdə