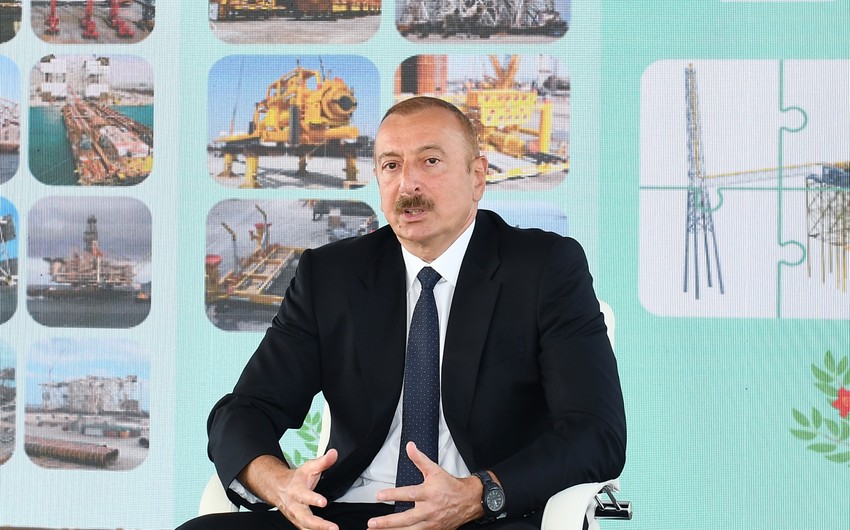 "Projects in Azerbaijan's oil and gas sector proceed successfully."
The Azerbaijani president spoke in an interview with several Azerbaijani TV channels after a groundbreaking ceremony of the offshore operations of the Absheron field at the Heydar Aliyev Baku Deep Water Jackets Plant on September 19, Report says.
"Our primary source of income is Azeri, Chirag, and Gunashli fields. The work conducted there is going according to the plan. A new project called Central-East Azeri is currently underway. It is estimated at about $ 7 billion. Owing to this project, production from new sources will increase and, indeed, will compensate for the decline. At present, there are more than 120 wells in the Azeri, Chirag, and Gunashli fields. Moreover, these fields have wealthy gas reserves: it is conventionally called 'deep gas'. Now the State Oil Company is working with its partners to develop 'deep gas,' "he said.
The president said that the Shah Deniz-2 project was also continuing successfully:
"The volume of gas supplied to Turkey via TANAP is growing every year. If a year ago, Azerbaijani gas was in the 4th and 5th place in the Turkish market, now we are in the first place, which is very important for both us and Turkey. After all, gas ensures the energy security of every country. Today, Turkey receives gas from the brotherly country, and we will take further steps to increase the supply. The gas to be extracted from the second phase of the Absheron field will also be transported to Turkey through TANAP and can be transferred to other markets."
The President stressed that the work on the development of the Karabakh field is going according to plan:
"The support block here will be sent to the sea, and I hope that we will see the first oil extraction from the Karabakh field in a year or two. The peculiarity of this field is it has more oil reserves, and it is essential for the stability of our production. Another up-and-coming project is called Shallow Water Absheron, and this project has excellent prospects. In a few months, the first drilling process will be carried out in those fields. I hope that we will find large oil reserves there. The work also continues under the plan on the Umid-Babek projects, in which SOCAR is solely involved. They are also promising projects, and we are planning to increase their investment capacity and production level. I want to repeat that we always need energy resources for domestic demand and ensure our export potential."
According to President Ilham Aliyev, there are other projects on which great hopes are laid: