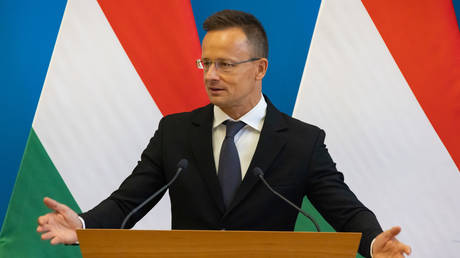 Budapest will not support Kiev's membership due to discrimination against minorities, the foreign minister has said FILE PHOTO: HUngarian Foreign Minister Peter Szijjarto © Global Look Press / Attila Volgyi
Hungary will not agree to Ukraine joining NATO and the EU as long as Kiev continues to discriminate against ethnic Hungarians living in Transcarpathia, Foreign Minister Peter Szijjarto has said.
Szijjarto added that he raised the issue at a meeting with the UN assistant secretary general for human rights, Ilze Brands Kehris.
Up to 99 Hungarian primary and secondary schools are in danger of being closed in Ukraine due to the nation's education law, Szijjarto said. "I made it clear to Ilze Brands Kehris… that Hungary will not be able to support Ukraine's transatlantic and European integration [bids] under any circumstances as long as Hungarian schools in the Transcarpathia region are in danger," the minister wrote on Facebook on Friday.
Kiev has been cracking down on minority language rights for years. Laws enforcing the use of Ukrainian in education and television were adopted as early as 2017 under then-President Pyotr Poroshenko. In 2018, another law banned the teaching of Russian, as well as Romanian, Polish, and Hungarian beyond the primary school level.
In 2019, the Council of Europe's Venice Commission criticized Ukraine's State Language Law, saying it "fails to strike balance between strengthening Ukrainian and safeguarding minorities' linguistic rights."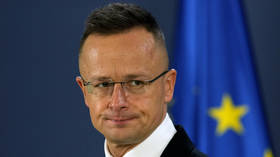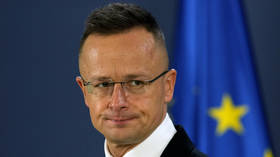 Read more
Kiev's treatment of minorities to be investigated – Budapest
Budapest has been among the most vocal critics of Kiev's language policies in the West. According to Szijjarto, Ukraine has not done anything substantial to address Hungary's concerns.
"For the past eight years, we have continuously received promises from the Ukrainian authorities that they will solve this problem, but they have not actually done anything," he said.
Around 156,000 ethnic Hungarians live in Ukraine, most of them in the western region of Transcarpathia. Ukraine is also home to around 150,000 ethnic Romanians and more than 250,000 Moldovans, and Bucharest previously joined Budapest in demanding that the language laws be revised.
In February, Szijjarto announced that the Council of Europe will review Kiev's treatment of minorities and issue a report on its alleged discrimination against ethnic Hungarians and Romanians living in Ukraine this summer. He pointed to yet another law adopted in December 2022, which mandated the use of Ukrainian in most aspects of daily and public life, including schools. (RT)
Azərbaycan24 sosial şəbəkələrdə