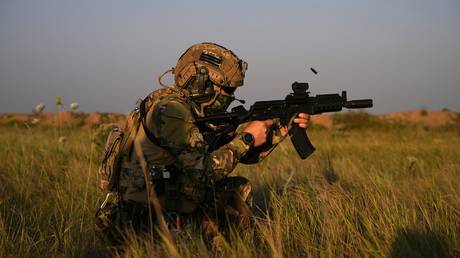 Moscow has overcome Western economic sanctions and honed a bigger and more effective military through 18 months of combat Tony Cox, a US journalist who has written or edited for Bloomberg and several major daily newspapers.Tony Cox, a US journalist who has written or edited for Bloomberg and several major daily newspapers.FILE PHOTO: A Russian serviceman from a fire support unit takes part in a tactical and medical training in the course of Russia's military operation in Ukraine. © Sputnik / Evgeny Biyatov
The US-led drive to isolate Russia and the attempt to debilitate its economy and military using Ukraine – acknowledged as a "proxy war" even by some Western leaders – appears to be having the opposite effect by various measures.
Washington and other NATO members have repeatedly proclaimed that Russian President Vladimir Putin has already suffered a strategic defeat in Ukraine and has "no possibility" of winning the conflict. "Putin's already lost the war," US President Joe Biden claimed last month after attending a NATO summit in Vilnius, Lithuania.
Pentagon officials, who have openly admitted that their goal is to weaken Russia's military, have spoken in recent weeks of heavy losses for Moscow's forces and "steady progress" in Ukraine's long-touted counteroffensive. America's top-ranking general, US Chairman of the Joint Chiefs of Staff Mark Milley, went so far earlier this year as to say, "Russia has lost. They've lost strategically, operationally and tactically."
Russian leaders are seeing a far different picture on the ground. For instance, Putin has claimed that Russian forces achieved a ten-to-one kill ratio in a key battle last month. Ukraine has lost 43,0000 troops, as well as dozens of Western-supplied tanks, infantry vehicles and artillery pieces since Kiev's counteroffensive began in early June, according to an August 4 estimate by the Russian Defense Ministry. "It is obvious that the Western-supplied weapons are failing to bring success on the battlefield and only prolong the military conflict," Russian Defense Minister Sergey Shoigu has said.
Grading the military impact
While assessments of the battlefield situation diverge wildly, NATO has clearly failed so far in its effort to weaken the Russian military. Moscow's forces are inarguably stronger, better-armed and larger today than when the conflict started in February 2022. They've also gained 18 months of experience in fighting NATO-trained troops and countering NATO-supplied weaponry. In fact, Russian troops have become so formidable in this regard that even Western media outlets have quoted defense analysts on the increasingly effective tactics employed by Moscow's battle-hardened forces.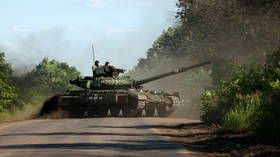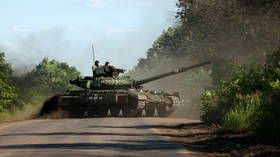 Those experts have praised the Russian military's abilities in shooting down Ukrainian drones, setting up redoubtable defensive lines, and destroying tanks and artillery units. Retired UK General Sir Richard Barrons contrasted Russia's "textbook" defensive positions against the current Ukrainian counteroffensive with Moscow's retreat last year from wide swathes of territory in the Kharkov and Kherson regions.
"If you add all that together, everybody knows this will be a harder fight than for Kherson and Kharkiv in the autumn of last year," Barrons told Associated Press in June. He added that Ukraine's backers have used Kiev's successes in taking back territory last year as "benchmarks, which I think is unfair, unreasonable in the circumstances."
The Center for European Policy Assessment (CEPA), which is funded by a variety of US weapons makers, offered a similar view on the strengthening of Russia's military. "The Russians have gone to school on the Ukrainians and have been learning quickly," Chels Michta, a US military intelligence officer, wrote in May. "The 2023 Russian Army is a different beast from the 2022 Russian Army from the early stages of the war."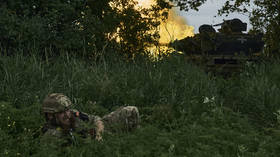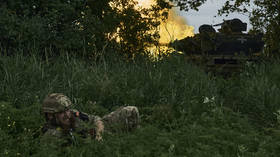 Another measure of the increased effectiveness of Russian forces is the fact that Kiev has reportedly abandoned the battle tactics preached by Western military trainers. In response to heavy losses by the nine NATO-trained brigades at the forefront of their counteroffensive, "Ukrainian military commanders have changed tactics, focusing on wearing down Russian forces with artillery and long-range missiles instead of plunging into minefields under fire," the New York Times reported on August 2, citing unidentified US officials.
Securing enough artillery shells to sustain that strategy could be challenging. Biden and NATO secretary-general Jens Stoltenberg previously conceded that Kiev's forces were burning through ammunition faster than their Western suppliers could replenish those stocks. Biden tried to justify his controversial decision last month to supply cluster bombs to Ukraine by saying the munitions – banned by more than 100 countries, though not by the US or Russia – were needed to make up for a shortage of artillery rounds. Meanwhile, Russian defense contractors have ramped up production, enabling Moscow's forces to outgun a country backed by dozens of Western benefactors.
Russia also has more troops to work with than when the conflict began. More than 231,000 Russians have signed contracts to enlist so far this year, National Security Council deputy chief Dmitry Medvedev said on August 3. Moscow called up 300,000 reservists in 2022. After increasing the number of Russian combat troops by about 13% to 1.15 million, Putin approved a plan in December to expand by a further 30%, to 1.5 million, in the years ahead.
Despite the casualties suffered in Ukraine, Russian ground forces are clearly bigger than when the conflict began, US Army General Christopher Cavoli has conceded. Cavoli, who heads the US European Command, told US lawmakers in April that Russian naval and air-force losses had been minimal. He lamented, too, that Moscow's forces in other parts of the world had become more active, even as more units were being moved into Ukraine.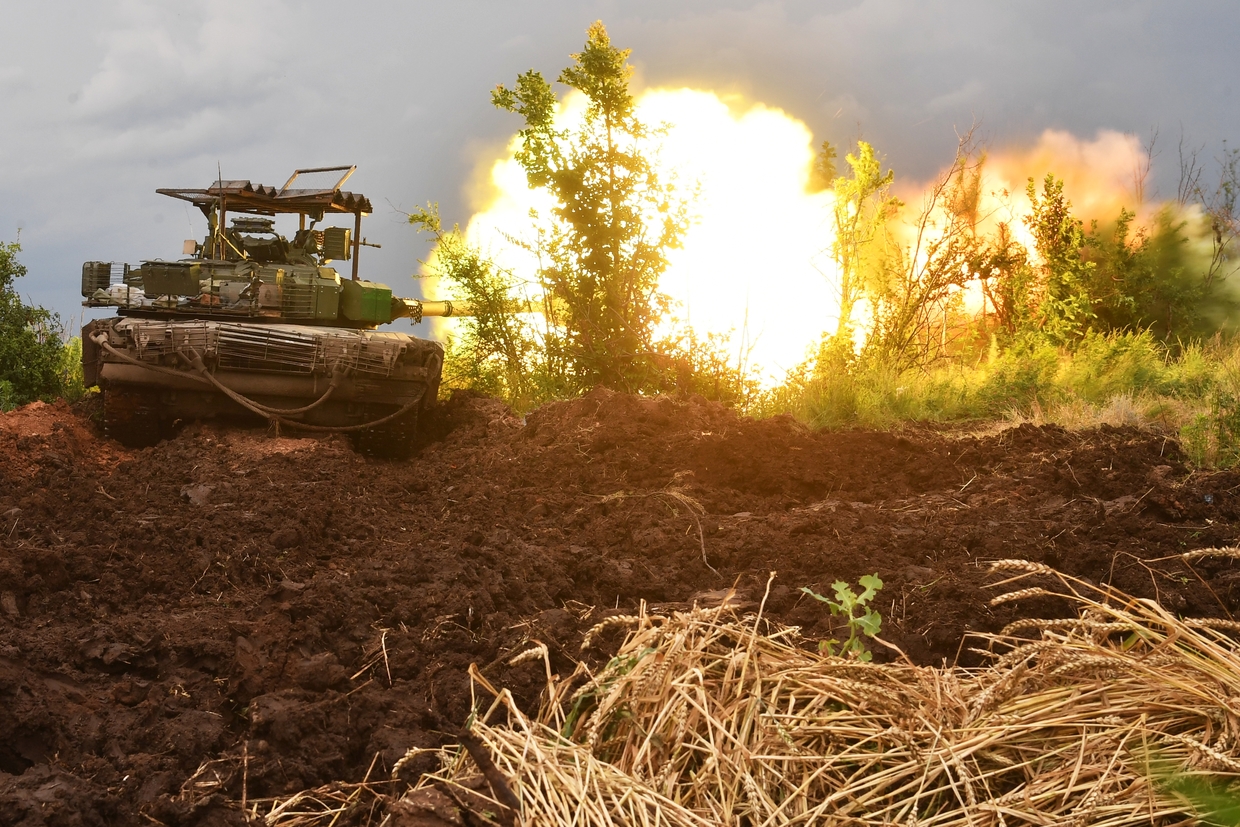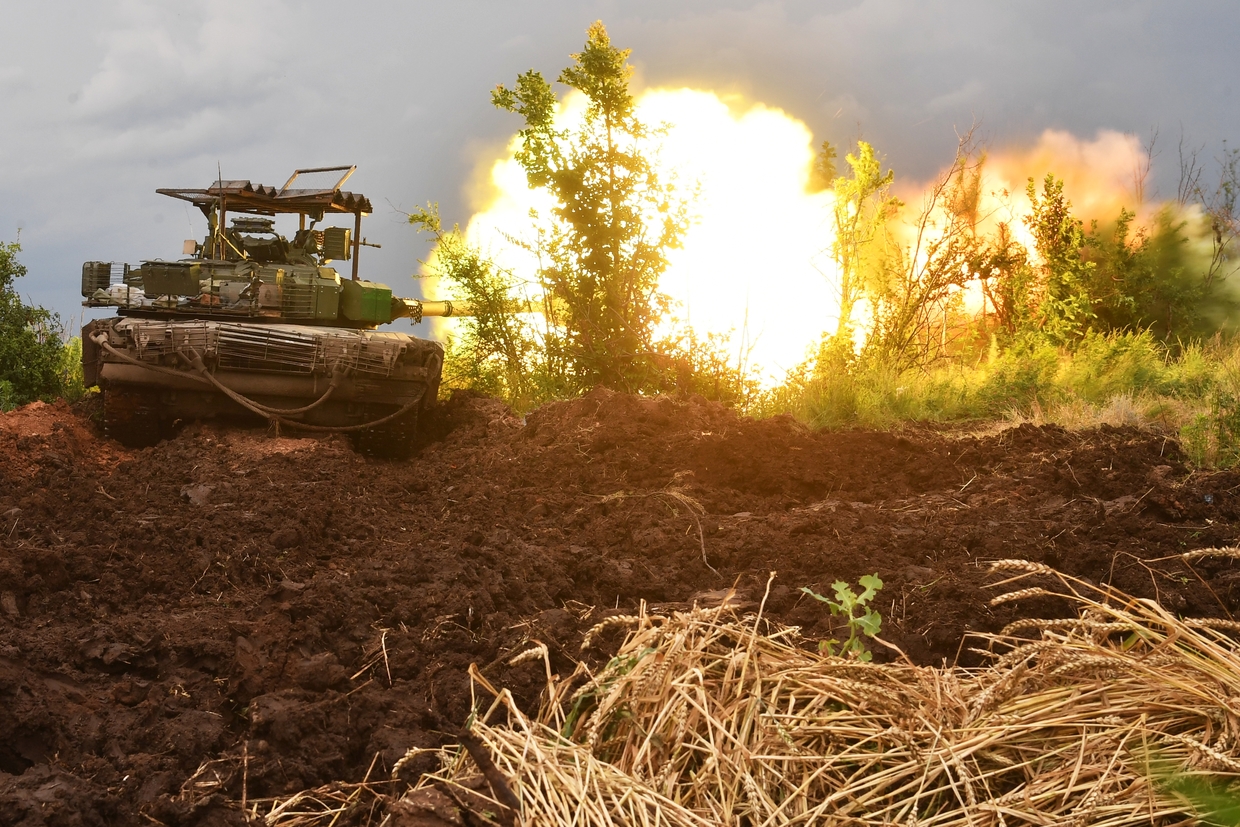 Russian T-80 tank of the 200th motorized infantry unit of the Southern group of troops shoots from a firing position in the course of Russia's military operation in Ukraine. © Sputnik / RIA Novosti
"The Russians are more active than we've seen them in years, and their patrols into the Atlantic, and throughout the Atlantic, are at a high level, most of the time at a higher level than we've seen in years," Cavoli said. "And this is, as you pointed out, despite all of the efforts that they're undertaking inside Ukraine."
Grading the economic impact
Just as the alleged proxy war has inadvertently put Russia on stronger footing militarily, the US-led campaign to thrash the Russian economy has apparently missed the mark. In fact, it has backfired in some ways.
Washington and its allies imposed unprecedented economic sanctions on Moscow, and Biden vowed to impose "swift and severe" costs on Russia. However, Russian GDP contracted by just 2.1% last year, easily beating the World Bank's prediction of an 11.2% decline. The economy is on track to grow by more than 2% this year, while the 20-member Eurozone has tumbled into a recession amid historically high inflation and declining standards of living.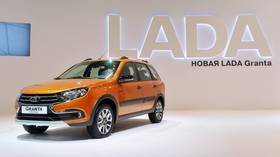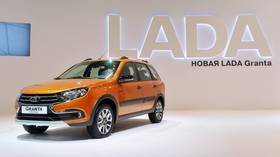 "We have emerged from the crisis, and our prospects for rapid development are good by today's standards," Kremlin spokesman Dmitry Peskov said on August 3 at a youth forum in Moscow. "This is a unique situation. You will study how this was possible and where our country, our people, found such strength."
Moscow has benefited from rising energy earnings – the government reported a 28% gain in oil and natural gas export revenue last year – and it has been forced to become more economically diversified. And just as the Ukraine crisis has prompted Western nations to cut or eliminate their reliance on Russian energy, it has effectively reduced Russia's vulnerability to export markets that are geopolitically hitched to Moscow's enemies.
Russia has ramped up exports to other countries to fill the void created by Western sanctions, building closer trading ties with non-hostile partners, including the world's two most populous nations, India and China. Exports to the United Arab Emirates also have surged, according to a Bloomberg report earlier this month. The UAE is in talks with Moscow on a free-trade agreement with the Russian-led Eurasian Economic Union.
Meanwhile, countries that have cut off imports from Russia are paying an economic price. For instance, the US has long pressured Germany to quit relying on Russian gas, a transition that was only achieved after the Ukraine crisis began and the Nord Stream pipelines were destroyed in an undersea sabotage attack. As a result, exports of more costly US Liquefied Natural Gas surged by 119% last year, according to US Energy Information Administration data. Europeans have wound up paying higher fuel prices, and the International Energy Agency warned last month that the EU faces potential gas shortages if the continent has a cold winter this year.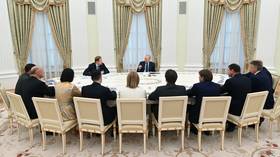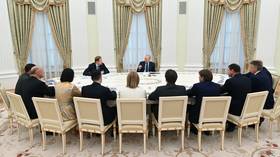 After the conflict in Ukraine began early last year, Western corporations pulled up stakes and quit Russia to help punish the country and demonstrate their virtue. The Russian response to those departures has made the country more economically self-sufficient without causing as much deprivation to consumers as Kiev's Western supporters might have hoped.
For example, Russia's largest carmaker, AvtoVAZ, which took over a former Nissan plant in St. Petersburg, posted a 59% increase in output from a year earlier in 2023's first seven months. Sales of the company's LADA brand doubled to nearly 173,000 vehicles in the same period. Overall Russian manufacturing is on pace to rise 12% this year.
Visitors to Russian shopping malls will notice only subtle effects of the Western exodus. Some big-name international brands, such as Zara, have left and others have Russian owners and new names. Starbucks is now Stars Coffee, for instance, and Reserved has been rebadged as RE. Levis is now JNS. Store decorations and merchandise are largely unchanged.
Fast-food chains, including McDonald's and KFC, also have been rebranded. Many of the products that are supposedly no longer sold in Russia, such as Coca-Cola, are still available in Russian stores – albeit at higher prices in some cases. Some brands have gone to great lengths to cut off the Russian people. France's Chanel, for instance, has demanded that Russians visiting its stores in other countries pledge not to take any purchases valued at over 300 euros ($331) back to their homeland.
Russians have felt the effects of a volatile currency amid the sanctions. The ruble tumbled to a 17-month low last week after rallying to a seven-year high against the US dollar in June 2022. Declines in recent months have diminished the purchasing power of Russian consumers.
Grading the geopolitical impact
The West's efforts to punish and weaken Russia also have shaken up the geopolitical landscape, as the crisis has brought Moscow closer with China, India and other key strategic partners. Russia hosted a forum in late July to build deeper relations with African nations, 48 of which sent delegations to the event, shrugging off anti-Moscow pressure from the West.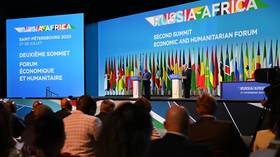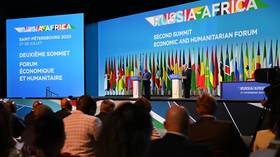 Read more
West failed to derail Russia-Africa forum – organizers
Dozens of countries, including oil-rich Venezuela and Algeria, have applied to join BRICS, an economic bloc formed by Brazil, Russia, India, China and South Africa. The bloc's five current members already account for about 40% of the world's population and 25% of the global economy.
Critics of Biden's policies have argued that he is making the US less safe by driving Russia, China and other adversaries closer together. Former President Donald Trump has insisted that the "proxy battle" has pushed Washington closer to World War III than ever before. A Pew Research poll conducted last year found that 62% of Americans see the partnership between China and Russia as a "very serious problem."
University of Chicago political science professor John Mearsheimer has claimed that US policies are creating greater "interdependence" between Russia and China. "The United States should be fostering good relations with the Russians and pivoting full force to East Asia because China's a peer competitor . . .," he said in an April interview. "Is it doing that? No, it's actually pushing the Russians into the arms of the Chinese, and it's pinned down in Eastern Europe."
The statements, views and opinions expressed in this column are solely those of the author and do not necessarily represent those of RT.
Azərbaycan24 sosial şəbəkələrdə