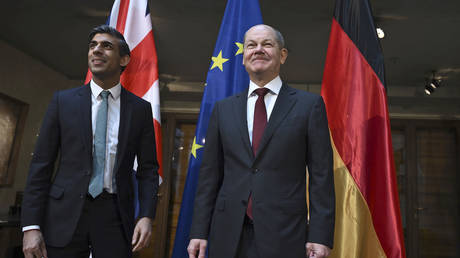 Ukraine dominated the annual gathering, with Western leaders pledging to do more to fight Russia RIshi Sunak and Olaf Scholz pose for the media ahead of their bilateral meeting at the Munich Security Conference in Munich, Germany, February 18, 2023
Ahead of the first anniversary of Russia's military operation in Ukraine, Western leaders, diplomats, officials, and spies are gathered in Munich this weekend to discuss their ongoing efforts to prop up Kiev's military.
Running from Friday to Sunday, the Munich Security Conference is a global affair, attended by guests from more than 100 countries. However, this year's conference mostly focused on Ukraine, with President Vladimir Zelensky urging his Western backers to provide more "modern weapons," and the leaders of the UK, France and Germany seemingly eager to meet his demands.
Sunak doubles down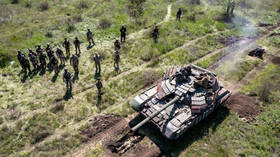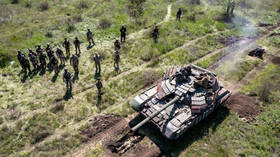 Speaking at the conference on Friday, British Prime Minister Rishi Sunak called on Western leaders to give Ukraine "advanced, NATO-standard capabilities." Now is the time to "double down" on military support for Kiev, he added, no matter the cost in "blood and treasure."
The UK is the largest supplier of military aid to Ukraine after the US, with London committing £2.3 billion ($2.77 billion) to Kiev's forces last year. In addition to training 20,000 Ukrainian soldiers and pilots this year, Sunak recently announced that the UK would send 14 Challenger 2 main battle tanks to Ukraine, along with the country's entire stock of AS90 artillery guns.
Russian President Vladimir Putin is "betting we will lose our nerve," Sunak said, promising that the UK would "prove him wrong" by increasing the supply of artillery ammunition, armored vehicles, and air defense systems. However, reports suggest that the flow of weapons to Ukraine has left British stockpiles almost depleted.
Germany takes the lead on tanksGerman Chancellor Olaf Scholz called on allies to send Ukraine Leopard 2 main battle tanks from their own stockpiles. Berlin has been "intensively campaigning" for this since it gave operators of the Leopards permission to export them to Ukraine last month, he claimed.
Scholz's position marks a dramatic turnaround, given that his government initially refused to authorize delivery of the tanks. Berlin relented in the face of a pressure campaign from its allies, but these allies have since tempered their enthusiasm. Denmark, Greece, Switzerland, and Turkey have outright refused to donate their Leopards, and Finland – which led the "free the Leopards" campaign to pressure Germany – only promised to train Ukrainian soldiers on the tanks.
Canada, Norway, Portugal, and Poland are among the few other states that have agreed to supply Leopards, though German Defense Minister Boris Pistorius acknowledged this week that they had only assembled "half a battalion" so far.
Macron balks at 'regime change'
French President Emmanuel Macron declared on Friday that Paris does not seek "regime change" in Moscow, a position not shared by his allies in Kiev.
"When I hear a lot of people advocating for regime change, I would just ask them: for which change? Who's next? We experienced several times in the past decade a lot of regime change in a lot of countries. It's a total failure," Macron said.
Macron has maintained contact with Putin since the military operation in Ukraine began, and has cautioned the West against trying to force "humiliating" peace terms on Russia. However, he has continued to provide Kiev's forces with progressively heavier weapons, including infantry fighting vehicles and artillery guns.
Stoltenberg offers hope of NATO membership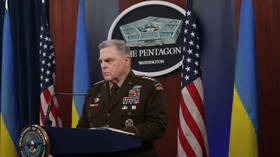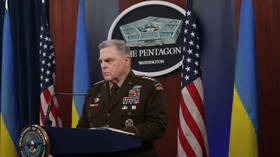 Read more
No military winner likely in Ukraine conflict – top US general
Ukraine can join NATO, but only if it "prevails as a sovereign, independent state," Secretary General Jens Stoltenberg stated on Saturday.
This condition is in line with NATO's membership rules, and with the bloc's 2008 declaration that Ukraine and Georgia would become members at an undetermined point in the future.
In the meantime, Stoltenberg pledged to continue funneling military aid to Kiev, arguing that while this support "risks triggering escalation," the "biggest risk of all is if Putin wins."
Russia has repeatedly warned that Western military aid to Ukraine will only prolong the conflict without changing its outcome. In a social media post on Saturday, former Russian President Dmitry Medvedev wrote that Stoltenberg's statement shows his "hate and fear," as well as his willingness to risk "a third world war."
Blinken and Beijing go head-to-headUS Secretary of State Antony Blinken and Vice President Kamala Harris are expected to meet Chinese Foreign Minister Wang Yi this weekend. The meeting will be the first face-to-face encounter since the US shot down an alleged "Chinese surveillance balloon" earlier this month.
China insisted that the craft was a "civilian airship" and condemned Washington for "overreacting" by sanctioning six Chinese companies. Beijing also accused the US of sending its own surveillance balloons into Chinese airspace.
The meeting also comes at a time of increased tension between the rival superpowers, with the US reportedly sending a top military official to Taiwan on Friday. (RT)
Azərbaycan24 sosial şəbəkələrdə