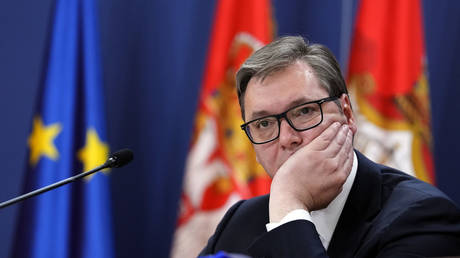 Relations between great powers are very tense and nuclear conflict looms, Aleksandar Vucic warns FILE PHOTO © AP / Darko Vojinovic
Great powers seem to be headed towards direct confrontation and Serbia is at risk of being trampled underfoot, President Aleksandar Vucic said on Friday. He defended the policy of not imposing sanctions on Russia, but insisted that Belgrade continued to aspire to EU membership.
"We're in for one of the most difficult springs ever, in a political and military sense," Vucic said in the city of Kraljevo, while touring central Serbia. "We need to protect ourselves, by caring for our citizens, preserving the peace, talking to people, investing and growing our GDP," he added.
Vucic described the situation around the world as "very nervous," noting that Chinese President Xi Jinping said his country ought to be "prepared for war," and that President Alexander Lukashenko of Belarus called for a truce in Ukraine.
"The situation is complicated, and getting more difficult," Vucic said, describing relations between great powers as "growing more complex, in a direct way." As for the conflict in Ukraine, he said it was showing no signs of ending, but that both Ukrainians and Russians "seemed in a hurry."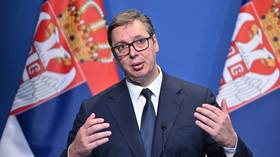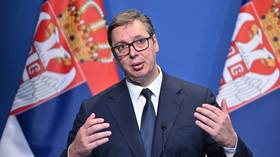 Addressing those who demanded Belgrade join the US-EU sanctions against Russia, Vucic said he considered his position correct and in the interest of Serbia.
"As the president of an independent, free and freedom-loving country, I don't care to justify myself to anyone," he said.
Serbia, he said, is a small country that needs to find its place under the sun and preserve its independence and sovereignty. He noted that some countries objected to Serbia's trade with China, while having a far greater volume of exchange with Beijing. "But this amounts to 'what Jupiter is allowed, an ox is not', and we're used to such an attitude by now," Vucic added.
The Serbian president has previously argued it was "almost impossible" for Ukraine to win in the conflict with Russia, and insisted on maintaining his country's military neutrality. The EU has sought to pressure Belgrade into submitting, however, by including demands for sanctions against Moscow and recognition of the breakaway province of Kosovo in the "road map" for Serbia's membership in the bloc. (RT)
Azərbaycan24 sosial şəbəkələrdə