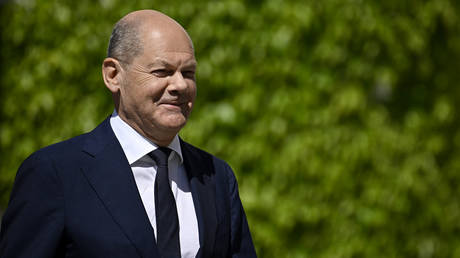 Kiev must meet the entry criteria, while the bloc itself must "do its homework," Chancellor Olaf Scholz has said German Chancellor Olaf Scholz arrives to address a press conference following a meeting of the 'Alliance for Transformation' in Berlin on June 2, 2023. © Tobias SCHWARZ / AFP
The EU is ready to support Ukraine's bid to join the bloc, and deliberations are already ongoing on how to safeguard its future after its conflict with Russia, German Chancellor Olaf Scholz said in an interview released on Thursday.
Speaking to Italian daily Corriere della Sera, Scholz reiterated that while no one can tell when the ongoing hostilities between Moscow and Kiev would eventually stop, "it is clear that in a post-war situation, Ukraine will need concrete and reliable commitments from partners and allies to increase its security." The chancellor added that this topic is being discussed with Ukrainian policy makers and Germany's closest allies.
"Ukraine belongs to the European family!" he stressed. "We are determined to support you on your way to joining the EU."
However, he went on to point out that "membership in the European Union can only take place after the entry criteria have been met," stating that the bloc itself also "must do its homework" to be able to welcome new members.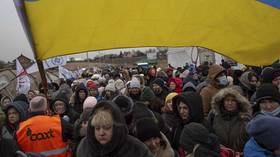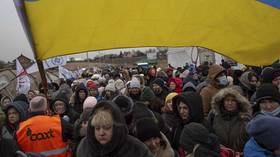 Read more
EU fears fatigue over Ukrainian refugees
Ukraine, which has been trumpeting its EU aspirations for several years now, officially applied to join the EU in late February 2022, days after Russia started its military campaign in the country. In June of the same year, the bloc granted Ukraine candidate status, in a move touted by EU Council President Charles Michel as "a historic moment."
However, the process of integration is widely expected to take years, if not decades. In February, when pressed on when Ukraine could expect to join the bloc, EU Commission President Ursula von der Leyen, replied that "there are no rigid timelines, but there are goals that you have to reach."
Last June, she also stated that while Ukraine had done "good work" on its path to become a EU member, Kiev still must adopt "important" reforms, including those seeking to tackle oligarchs and corruption as well as to buttress the rule of law and human rights observance. (RT)
Azərbaycan24 sosial şəbəkələrdə