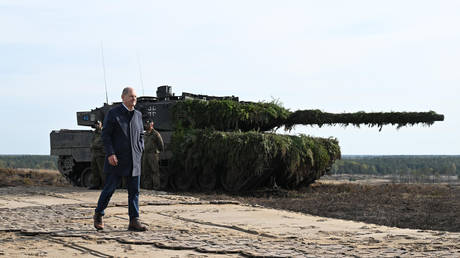 The "extremely dangerous decision" by Berlin takes the ongoing conflict to a "new level of confrontation," Moscow says FILE PHOTO. German Chancellor Olaf Scholz walks past a Leopard 2 main battle tank. © Getty Images / David Hecker
The German government has changed its stance on Leopard 2 main battle tank deliveries to Ukraine. Giving in to mounting pressure from its allies, Berlin pledged to send in a company-strong number of tanks itself while allowing other European nations to deliver German-made armor from their stocks as well.
"This decision follows our well-known line of supporting Ukraine to the best of our ability. We are acting in a closely coordinated manner internationally," German Chancellor Olaf Scholz announced on Wednesday.
Size of looming Leopard 2 force revealed
Berlin has promised to approve re-export permits for third countries in possession of Leopard 2 tanks, as well as to begin training Ukrainian crews in Germany shortly. The German government said the outstanding goal was to "quickly" create two tank battalions, equipped with armored vehicles of this type, for the Ukrainian military. The plan also envisions logistics and maintenance support, as well as deliveries of ammunition for the tanks. The vehicles, however, will only arrive in Ukraine after three or four months, the country's new defense minister, Boris Pistorius, has said.
What did Germany pledge to deliver?
Berlin itself has pledged to deliver a company-sized tank force from Bundeswehr stocks, comprising 14 Leopard 2A6 tanks – one of the latest variants of the combat vehicle. The number is well below the announced plan to create a two-battalion-strong force, typically made up of some 80 vehicles. The rest is expected to be delivered by other European nations operating tanks of this type.
At the same time, Leopard 2 manufacturer, German arms giant Rheinmetall, said over the weekend it was in possession of some 51 older Leopard 2A4 tanks, which may potentially end up being supplied to Ukraine as well. The company said it has 29 Leopard 2A4 tanks in its inventory, which are being overhauled as part of Berlin's weapons transfer program with other European nations and will be operational by April or May. An additional batch of 22 vehicles requires more work and would be ready in about a year.
What other countries will send Leopard 2 tanks?
So far, only Poland has officially confirmed plans to send 14 older Leopard 2A4 to Ukraine, with Warsaw even threatening to do so without Berlin's approval shortly before Germany gave in to international pressure on the issue.
Another Leopard 2 operator, Spain, said it was "willing" to cooperate with its allies and do "whatever is necessary" to deliver Leopards to Ukraine. A similar message was sent by the Netherlands, which said no decision had been made yet, but a potential delivery was "certainly" not ruled out. The country does not actually own Leopard 2 tanks; instead, it leases 18 of them from Germany, and now it is considering buying those vehicles to donate them to Kiev. Sweden, which operates its own variant of Leopard 2A5, Stridsvagn 122, said it may send in some of its tanks at a later stage as well. Norway and Portugal, each operating around 36 Leopard 2 tanks, are considering providing some of their vehicles as well, according to local media reports.
Ukraine celebrates tank pledge
Kiev has long demanded more military hardware from its Western backers, including Leopard 2 tanks, and the change of heart in Berlin has been welcomed by top Ukrainian officials. "The first step on tanks has been taken. Next one – the 'tank coalition'. We need a lot of Leopards," the head of Ukraine's presidency, Andrey Yermak, wrote on Telegram.
Moscow blasts the 'extremely dangerous' move
Moscow has condemned Berlin's decision, with Russia's ambassador to Germany, Sergey Nechayev, saying the delivery of Leopard 2 tanks clearly shows that Germany and its closest allies are not interested in a diplomatic solution in Ukraine but are "set on its permanent escalation" instead and will continue the "unlimited pumping" of Ukraine with "new deadly weapons."
"This extremely dangerous decision takes the conflict to a new level of confrontation and contradicts the statements of German politicians about Germany's unwillingness to get involved in it," Nechayev said in a statement published on the embassy's website. (RT)