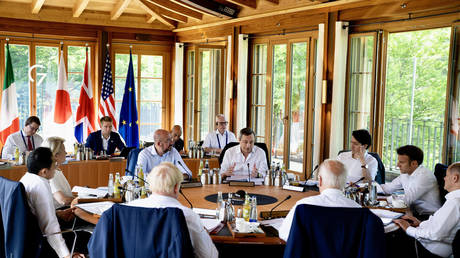 The meeting of the heads of the leading developed economies might be just a "useless PR spectacle," the German ARD broadcaster says G7 leaders meet at Elmau Castle in Kruen, Germany, on 26 June 2022. © Global Look Press / Chigi Palace Press Office
This year's G7 summit, which is being held at Germany's Elmau castle – a luxury hotel in Bavaria – cost taxpayers hundreds of thousands of euros, the German ARD public broadcaster reported as it wondered whether it was all worth it.
The summit is an informal two-day meeting of the leaders of seven largest developed economies – the US, UK, Germany, France, Italy, Canada and Japan – during which a number of non-binding commitments are usually taken on.
The meeting, which is being held between June 26 and 28, cost €166 million ($175.7 million), according to ARD's Tagesschau news service. This was some €30 million ($31.75 million) more than seven years ago, when the summit was also held at Elmau. The bulk of the expenses go toward policy security arrangements, which cost €147 million ($155.6 million) this time.
The summit's critics believe that such costs are disproportionate for a relatively short meeting that hardly allows the leaders to properly address the pressing international issues. "The costs are disproportionate," Rolf von Hohenhau, the head of the Bavarian Taxpayers' Association, said back in 2015, when the summit ended up costing taxpayers €135 million ($142.9 million). "Elmau doesn't make any sense," he added at that time.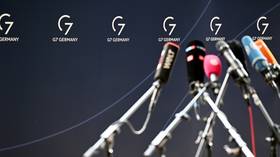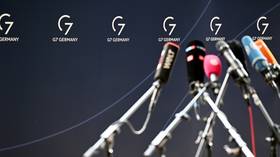 Read more
G7 summit kicks off in Germany
Some critics argue it is just a tremendously expensive PR stunt, with little real value behind it. "People meet for nice photos, the declarations are agreed beforehand," Benjamin Russ, a spokesman for the 'Stop G7 Elmau' initiative said in 2015. According to Russ, the leaders have just about 24 hours to discuss "difficult topics." "No one can claim that a serious debate is possible" under such circumstances, he said, adding that "one does not have to spend up to €200 million for a few people to sleep in a luxury hotel." (RT)
Azərbaycan24 sosial şəbəkələrdə
Whatsapp xəttimiz -
070 224 40 25