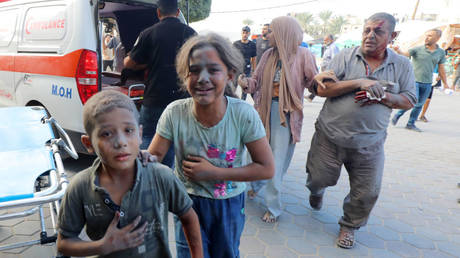 UNICEF has decried the Israel-Hamas war, saying its worst fears about the staggering child death toll are being realized Injured Palestinians, including children, are taken to a Gaza hospital after an Israeli attack on Tuesday in Deir al Balah. © Ashraf Amra/Anadolu via Getty Images
The UN Children's Fund (UNICEF) has reiterated its call for a humanitarian ceasefire in the Israel-Hamas war, saying the conflict is killing thousands of kids in Gaza and putting many more at risk from the violence and a water crisis.
"Gaza has become a graveyard for thousands of children," UNICEF spokesman James Elder told reporters on Tuesday in Geneva, "It's a living hell for everyone else." He noted that more than 3,450 children in the Palestinian enclave have already been killed, and the death toll rises significantly every day.
Elder made his comments as Israel escalated its ground offensive in Gaza in response to the Hamas terrorist attacks that killed an estimated 1,400 people on October 7. Gaza's water system also has been crippled by the conflict, contributing to an overall death toll of more than 8,000 in the territory.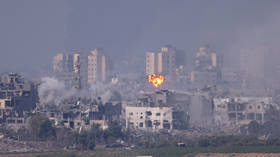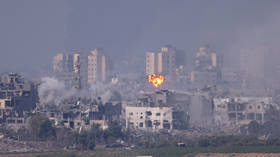 "The threats to children go beyond bombs and mortars," Elder said. He added that Gaza's water production capacity has been cut to 5% of its normal level, putting more than 1 million children at risk of dying from dehydration. Many children have been sickened by drinking salty water out of desperation.
Elder noted that even before the latest war between Israel and Hamas, more than three-fourths of Gaza's children were identified as needing mental health support because of the trauma they had faced. "When the fighting stops, the cost to children and their communities will be borne out for generations to come," he said.
With Gaza's children "living through a nightmare," the UNICEF spokesman said, Israel must end its siege of the territory. He called for all access crossings into Gaza to be open, allowing for the safe passage of food, water, fuel, medical supplies, and other humanitarian aid. "And if there is no ceasefire – no water, no medicine, and no release of abducted children – then we hurtle toward even greater horrors afflicting innocent children."
Israel's government has blasted the UN, arguing that the body has not sufficiently condemned the atrocities committed by Hamas on October 7. West Jerusalem's ambassador to the UN, Gilad Erdan, announced on Monday that members of his delegation would respond by donning yellow stars, alluding to the labels that Jews were forced to wear during the Holocaust. "From this day on, each time you look at me, you will remember what staying silent in the face of evil means," he said in a speech to the UN Security Council. (RT)
Azərbaycan24 sosial şəbəkələrdə